See the line where the sky meets the sea in the Oriental-inspired glamping paradise of Camp Bernardino de Lavigan.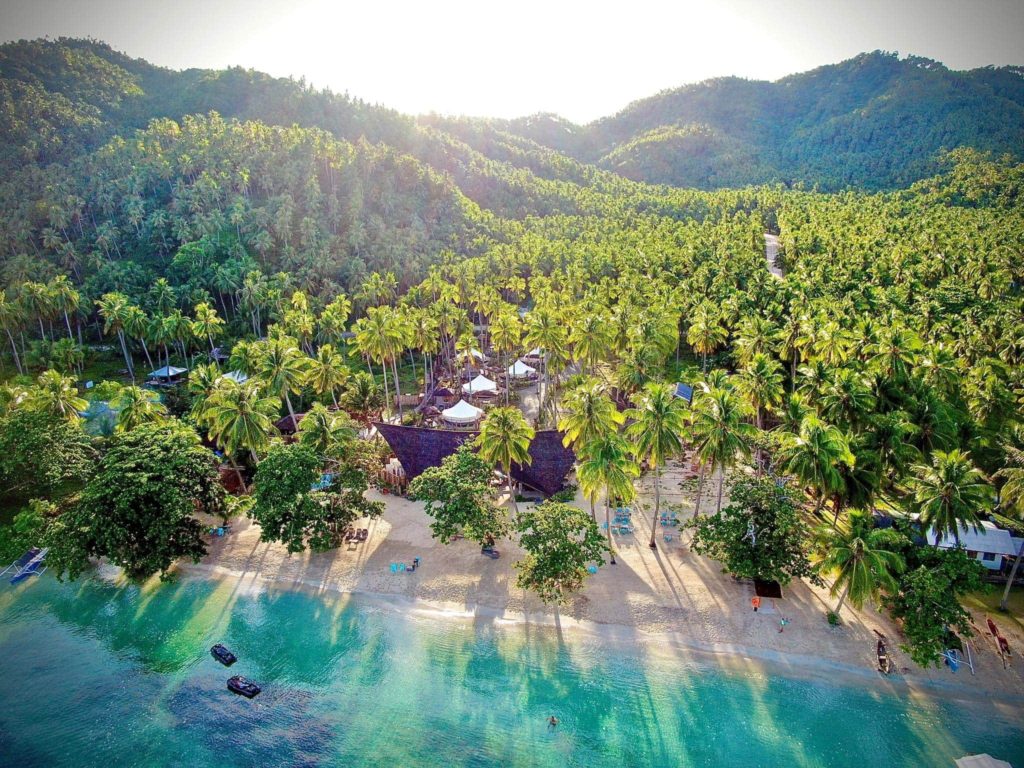 This relatively new glamping destination in Davao Oriental has already captured many hearts of wanderers with their authentic Asian-themed accommodations that elevates the already stunning views of the pristine white sand beach and clear turquoise waters of Mindanao.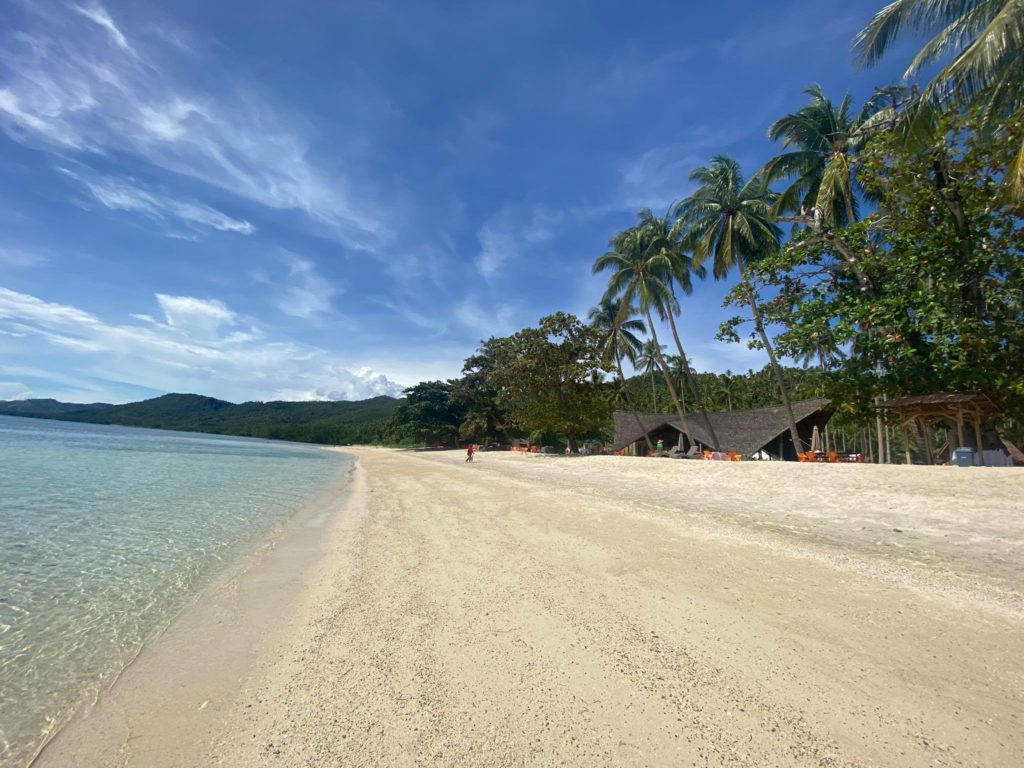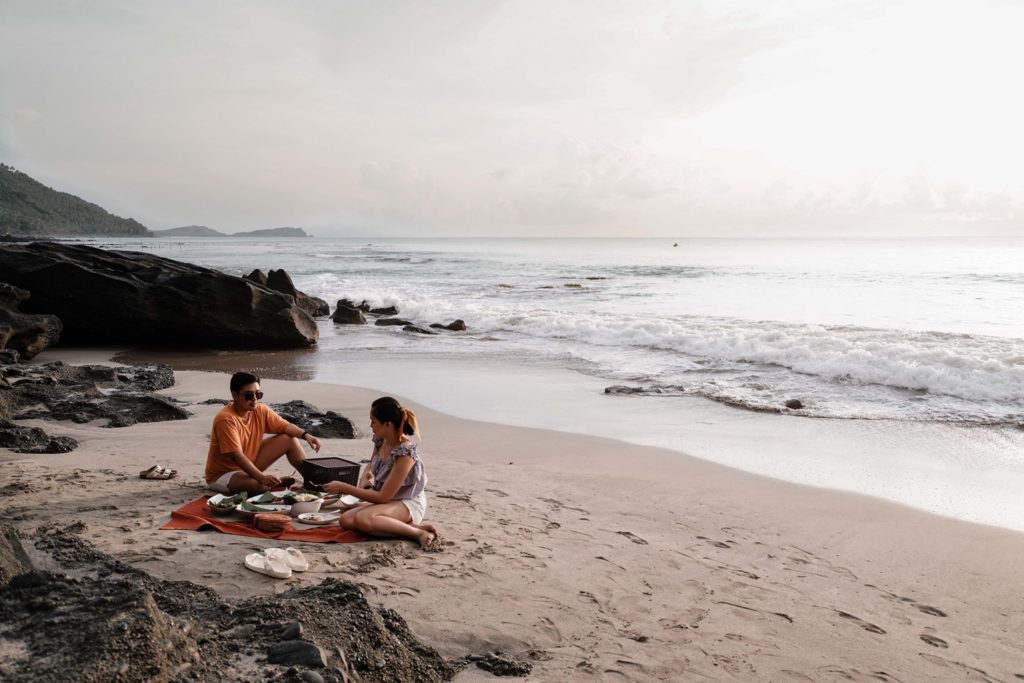 What truly makes Camp Bernardino de Lavigan stand out is the unique design which highlights Filipino structures made out of native materials which makes the resort feel tribal and modern at the same time. Despite having unique structures, the overall design blends well with its surroundings which makes the guests feel even closer to nature.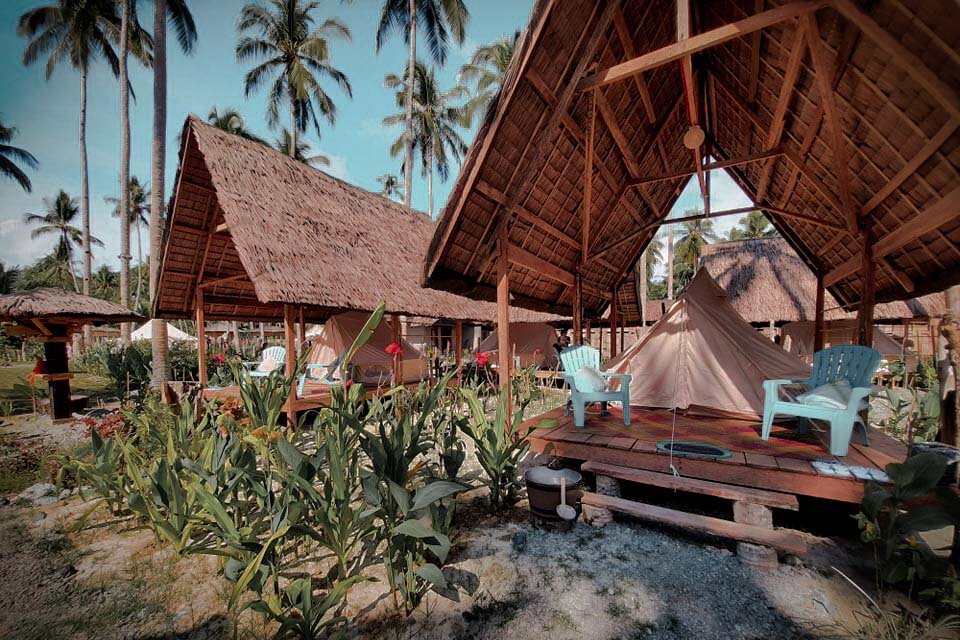 The private quarters for guests are a couple of three-and seven-diameter tents which can fit quite a number of people inside them. The interior of the tents also stays consistent with the Oriental-theme using woven sofas and other minimalist furniture. Surprisingly, the tents have beds inside them and air conditioning which ensures that its occupants are completely comfortable.
One of the most charming points of the resort is the presence of fine, white sand everywhere, even in their open-air restaurant. The simple spreading of sand in many places burns the image of the beach into the mind and helps it forget the stresses of work and life which helps the body relax. This makes the guests really feel that they are spending one of the best vacations of their lives.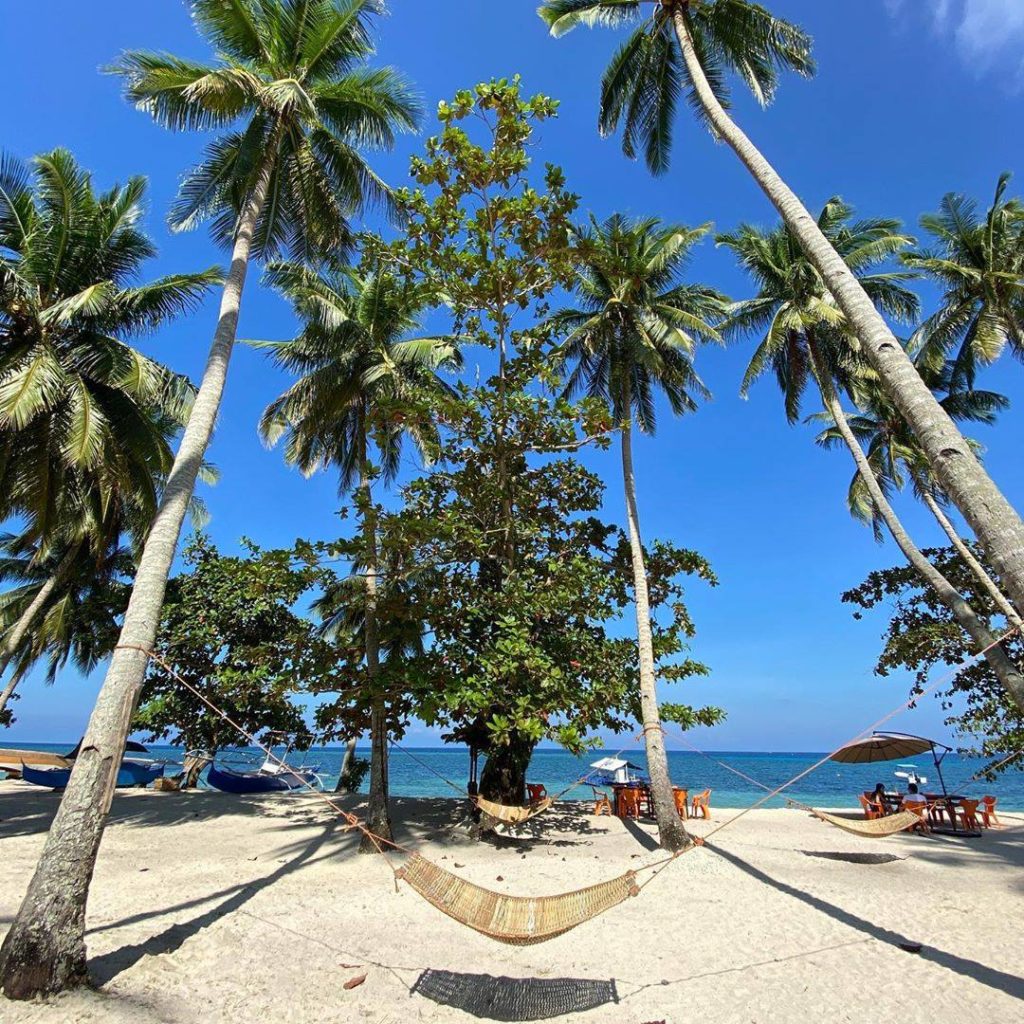 Davao Gulf
Aside from relaxing, there are also many activities that will keep guests occupied throughout their stay. They can chill and unwind with food and drinks in hand while watching the sun set in the Davao Gulf.
Kusina ni Tiya Gloria
Dining-by-the-beach has also never felt so raw and genuine in Kusina ni Tiya Gloria with servings of local and Oriental cuisines on the table and fine sand under everyone's feet.
Governor Generoso
When no one feels hungry, everyone can expend all their energy on the various water activities such as kayaking, paddle boarding, boat touring, or just simply swimming. The underwater views of Governor Generoso should be part of the list.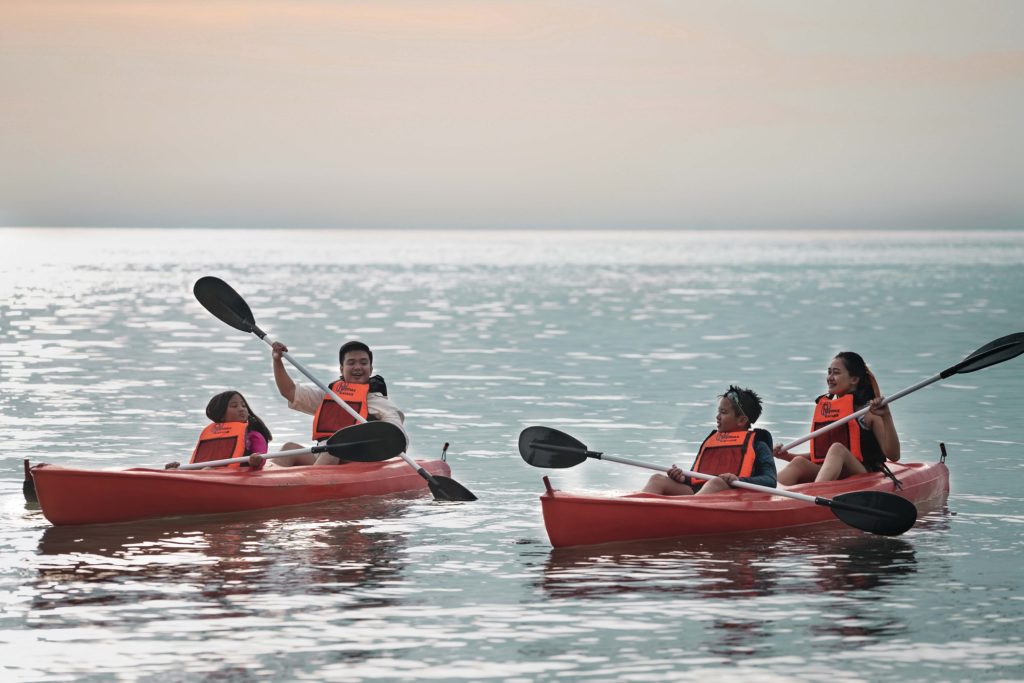 At the end of the day, release negative energies and stress through the healing hands of local massage therapists.
Nature-lovers will surely feel at home with this nature-filled resort that's dominated by gardens, white sand, and the sheer amount of coconut trees that brings tropical vibes into the mix. The camp combines the elements of elegance, charm, and simplicity with the rustic vibes of Davao Oriental which allow guests to relax in style and comfort – the real essence of glamorous camping.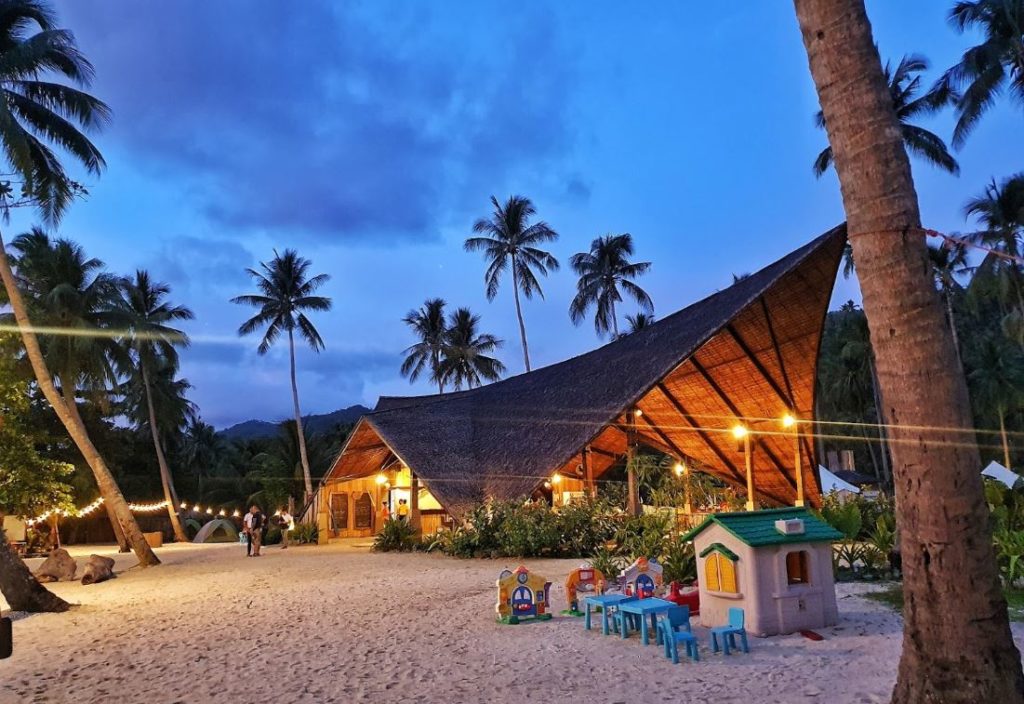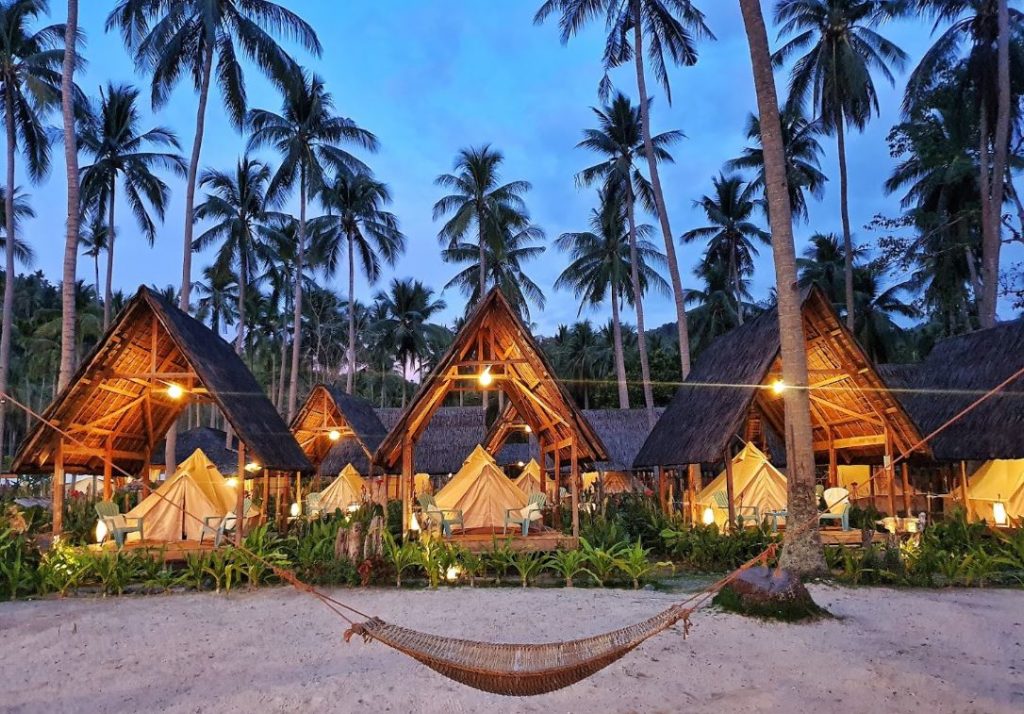 RATES & OTHER INFORMATION
EAST CAMP
Superior Tent: ₱11,600 per night, good for 8 persons
Family Tent: ₱9,600 per night, good for 6 persons
Inclusions: Air Conditioning, Private Bath & Toilet, Safety Deposit Box, Coffee/Tea Making Facilities, Tables and Chairs, Bottled Water
SOUTH CAMP
Deluxe Tent: ₱4,500 per night, good for 4 persons
Standard Tent: ₱2,250 per night, good for 2 persons
Inclusions: Cooling Fans, Common Toilet & Bath, Bottled Water
WATER ACTIVITIES:
Kayak (Single): P300 per hour
Kayak (Double): P500 per hour
Snork Board: P300 per hour
Stand up Paddle Board: P300 per hour
Small Pump Boat: P2,750 good for 3 persons, P750 per extra hour
Big Boat: P5,000 good for 8 persons, P1000 per extra hour
Boating Inclusions: 4 hours of bangka, Experienced Bangkero, Life Jacket, Bottled Water, Beach Towel & Cold Towel, First-Aid Kit, Life Ring Onboard, Snorkeling Gears, Fishing Rods
Scheduled Trips (anytime between): 6:00AM – 8:00AM, 1:00PM – 3:00PM, 7:00PM – 9:00PM
MASSAGE SERVICES
Whole Body Massage: P685, good for an hour
Head & Shoulder Massage: P350, good for 30 mins
Foot & Leg Massage: P350, good for 30 mins
OTHER INFORMATION:
HOW TO GET THERE?
Exact location: Governor Generoso, Davao Oriental, Mindanao — 4 to 5 hours away from Davao City.
BY CAR: Navigate with Waze or Google Maps and set your destination to "Camp Bernardino de Lavigan" in Governor Generos, Davao Oriental. Parking space is available upon arrival.