On Sunday afternoon, the Department of Health Central Visayas (DOH-7) has reported 91 new confirmed COVID-19 cases in Central Visayas — all of these cases are from the island of Cebu. This brings the region's tally to 1,081 as of May 3, 2020.
Based on the daily reports from DOH-7, there were at least 3,000 test results conducted last week, from April 27 to May 3. No new cases recorded in Bohol, Cebu and Negros Oriental. Siquijor remains free from COVID-19.
Note, Bohol has no confirmed active coronavirus disease. Though the COVID-19 Case Tracker would say 1, it is not a current case. Yes, the Chinese patient was confined at a private hospital in Tagbilaran City, but she has long been discharged and has returned to China. (ALSO READ: Here Are The Reasons Why Bohol Is Still CoVID-19 FREE)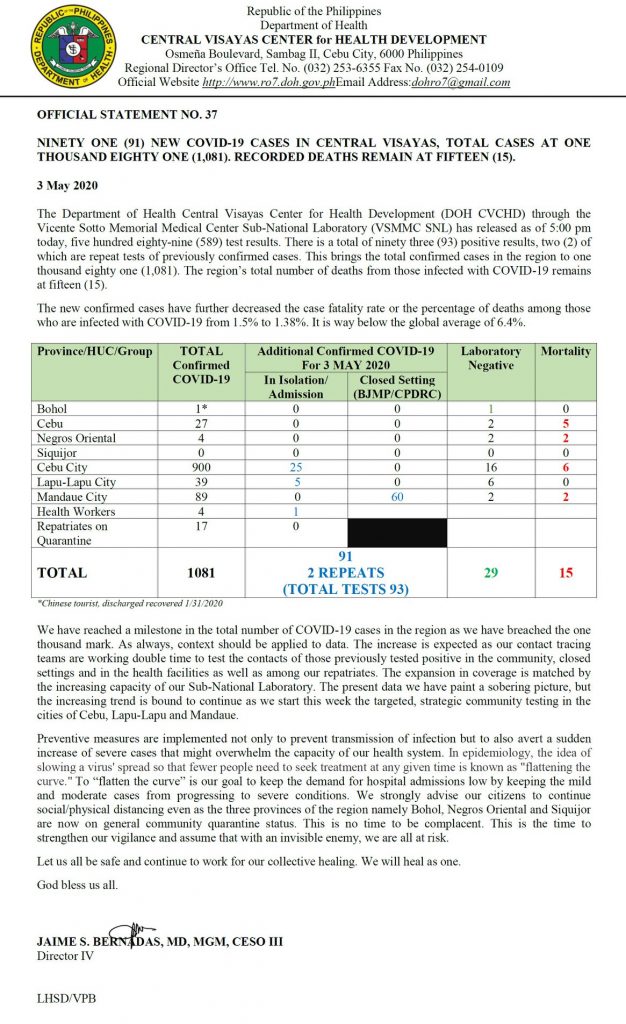 Meanwhile, in the Philippines as of May 3, 2020: the Department of Health reported 295 new confirmed cases, 90 new recoveries and 4 new deaths in the country. To date, the Philippines' tally is 9,223 confirmed cases with 1,214 recoveries and 607 deaths.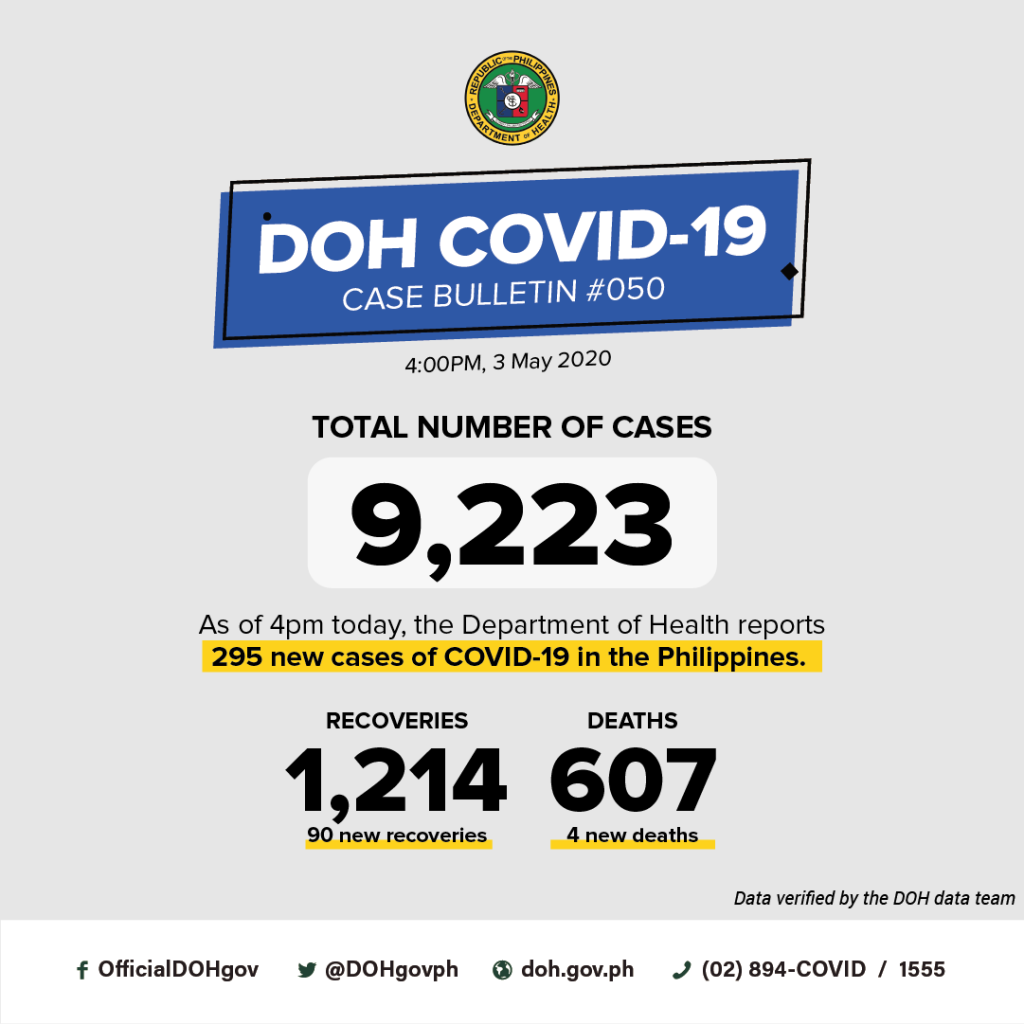 We have reached a milestone in the total number of COVID-19 cases in the region as we have breached the one thousand mark. As always, context should be applied to data. The increase is expected as our contact tracing teams are working double time to test the contacts of those previously tested positive in the community, closed settings and in the health facilities as well as among our repatriates. The expansion in coverage is matched by the increasing capacity of our Sub-National Laboratory. The present data we have paint a sobering picture, but the increasing trend is bound to continue as we start this week the targeted, strategic community testing in the cities of Cebu, Lapu-Lapu and Mandaue.

– Department of Health Central Visayas (DOH-7)
Preventive measures are implemented not only to prevent transmission of infection but to also avert a sudden increase of severe cases that might overwhelm the capacity of our health system.
In epidemiology, the idea of slowing a virus' spread so that fewer people need to seek treatment at any given time is known as "flattening the curve." To "flatten the curve" is our goal to keep the demand for hospital admissions low by keeping the mild and moderate cases from progressing to severe conditions.
The DOH-7 strongly advises to continue social/physical distancing even as the three provinces of the region namely Bohol, Negros Oriental and Siquijor are now on general community quarantine status.
This is no time to be complacent. This is the time to strengthen our vigilance and assume that with an invisible enemy, we are all at risk.