Imagine sleeping under the stars, hundreds of feet above the ground in a two-meter wide cliff ledge.
I know your stomachs have just dropped either with thrill, fear or nausea.
Vertical Bivouac in Kiokong White Rock Wall, is the first and only Extreme Cliff-Camping in the Philippines. "Bivouac" refers to sleeping in the open with a bivouac sack or only your clothing on a small shelter located in the wild or mountains.
This is no usual campsite on the ground. You are expected to scale a rock wall and rest on cliff walls, ledges, cracks, and rock depressions for temporary shelter.
Kiokong White Rock Wall is 150-meter high or almost 500 feet. The climb is no joke for you have to reach the final ledge where you camp out for the night from the base of the cliff through single rope technique or in layman's term, you have to carry your own weight, on footholds, slowly inching your way up with the help of a single rope.
Sweat, willpower and determination are the key to this rigorous climb. Ironically, there is a certain peace in just hanging on a rope from insane heights with nothing on your mind but the goal to reach the top.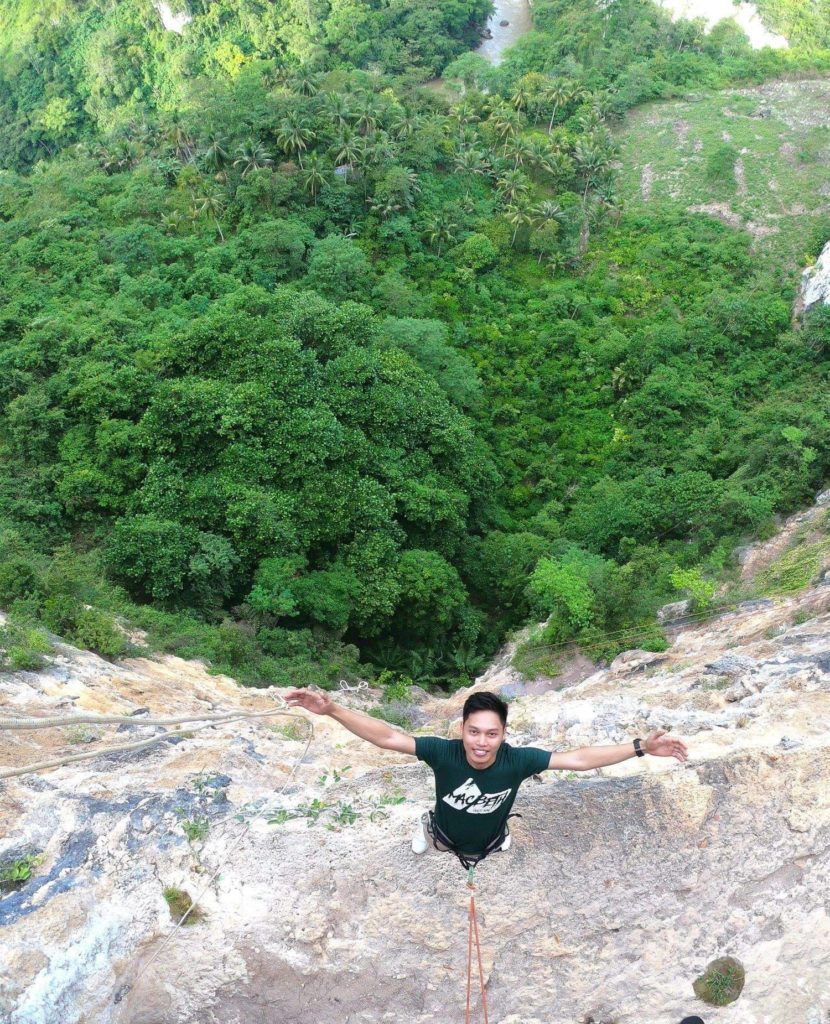 And nothing beats the elated feeling of success and being very aware that you're alive with the mountain breeze on your face.
This is definitely not for the faint-hearted for you also don't rappel going down. You might want to write this down on your bucketlist for this camping adventure will be life changing and off the charts thrilling.
What to wear
Appropriate sports attire, preferably dri-fit shirts in bright colors for visibility and leggings
Good trekking shoes, high socks, Headware for wiping sweat
Small beltbag to keep trail food handy
What to bring
Enough drinking water (1L recommended)
Pre-cooked packed meals for dinner, breakfast and snacks
Bring tarps, hammocks and bug repellant items (Katol, Off Lotion, etc.). For anyone allergic to insect bites, make sure to have your medicines on hand.
Garbage bags for waterproofing and your trash
Note: Bathroom at the jump-off point
RATES & OTHER INFORMATION
Hours of Climb: 2-3 hours
Local Fee: P7,500 /person (with safety gear like a helmet, harness, gloves and the hardwear, like ascenders and descenders).
Foreigner Fee: $200 /person
Booking and reservation fee: P2,000 per guest is required with your balance upon arrival
Minimum Number of Guests: 5pax (4 pax will be allowed on some occasion with adjusted rate)
Inclusions:
Climbing equipment, head lamp & Personal protective equipment (PPE)
Sleeping pads, Hauling bag for your belongings
Camp stove, Paper plates, utensil and cups
Sanitary equipment
Regulatory fee, Park fee & Guide fee
OTHER INFORMATION:
HOW TO GET THERE?
Exact location: San Jose, Quezon, Bukidnon, Mindanao
From Davao City (3-4 hours): From the Francisco Bangoy International Airport (DVO), take a metered taxi to take you to Ecoland Bus Station. The taxi bay is located outside the departure area of the airport. Hire a taxi (P140-P200) to take you to the Ecoland Bus Terminal.
Upon entering the terminal, look for the Rural Bus (Color: red) that heads to Cagayan De Oro (Cost: P180-P230). Tell the conductor to let you off at Quezon, wherein your landmark is a 7/11 convenience store. (On Google Maps, locate: 7/11 Quezon Buda).
From Cagayan de Oro City (4-5 hours), and Cotabato Province (4-5 hours). Transportation will be shouldered by the clients going to Municipality of Maramag or Municipality of Quezon, Bukidnon. The jump-off point is along the Davao-Bukidnon National Highway.
Ride any regular bus bound for Davao City and tell the conductor to drop you off right after the Pulangui Bridge at the boundary of Kiuntod, Camp 1, Maramag and San Jose, Quezon.