Located in Mati City's Dahican Beach which boasts of fine white sands, crystal clear blue waters, and uncrowded shores, La-Ne's Kalapyahan Resort is considered to be one of the best options within the said location.
The resort is very well-maintained, with lots of beach trees and open spaces that will provide you some space and shade, and most of all, it has an amazing beachfront view of the Pacific Ocean. The 7-kilometer stretch of white sand with the perfect background of numerous coconut trees makes it very popular to tourists and locals.
Dahican beach is also a protected sanctuary for sea turtles. In fact, the name of the beach is from the local word "dahik" which refers to the act of the sea turtle coming to the shores to lay eggs.
This spot is also very popular for skim boarding, surfing, and beach enthusiasts due to the unspoiled paradise it offers. You can also take surfing lessons from the locals pegged at P500 per hour. The place is perfect for those who want to learn due to the small and gentle waves, and it is not as crowded as in Siargao or Baler.
But if you're not up for these, you can just do some sun bathing, swimming, watch the locals fish and surf, or just lie in a hammock under some shade. You can really feel the pure island vibes here because it has not yet been spoiled and heavily commercialized.
La-Ne's Kalapyahan Resort not only offers you access to the pristine Dahican Beach, but it is very popular around the area due to the local night vibe. The lights around the pool and the sound of the beach nearby is the perfect formula for some night swimming.
Furthermore, La-Ne's Kalapyahan Resort is one of the few resorts that offer a day tour to the nearby Pujada Island. Just this year, the beauty of Pujada Bay has been officially declared as world-class by the Most Beautiful Bays in the World Association (MBBWA). For party-goers, the best time to visit La-Ne's is on the first week of June where the resort holds the annual Summer Frolic – an anticipated event in Mati City.
RATES & OTHER INFORMATION
DAY USE:
Entrance fee: P100 per adult; P50 per child
Pool Use: P100 per head
Cottage (Tables & Chairs for 4): P250 per day
Cottage (Tables & Chairs for 8-10): P500 per day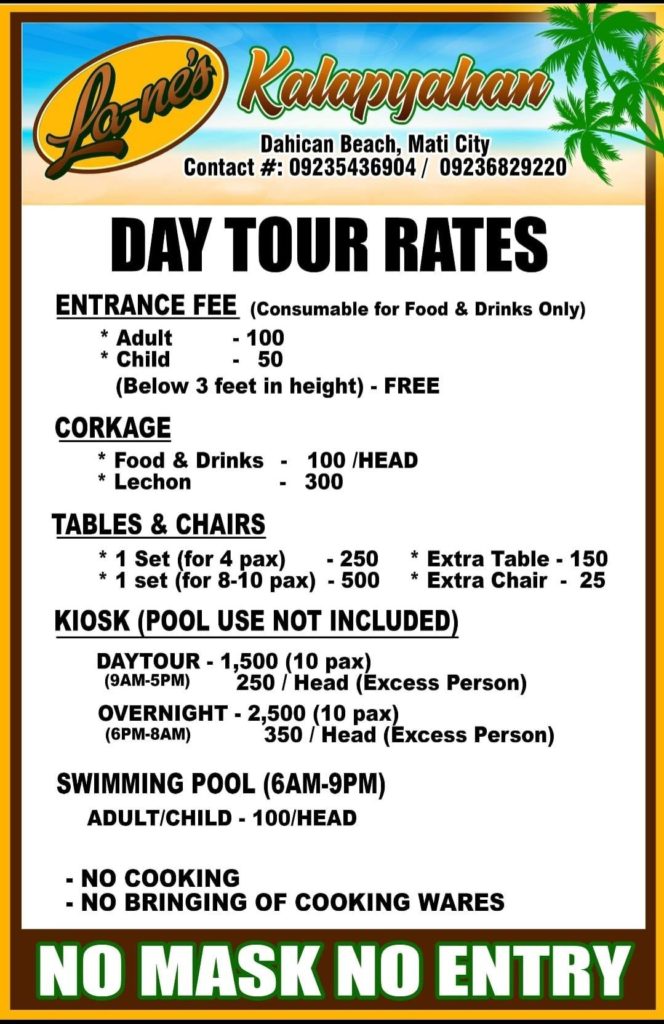 ROOM RATES:
Economy Rooms – P2,500 per night (3 persons), P3,000 (4 persons)
Family Standard Rooms – P8,800 per night (8 persons)
Family Deluxe – P6,000 per night (4 persons)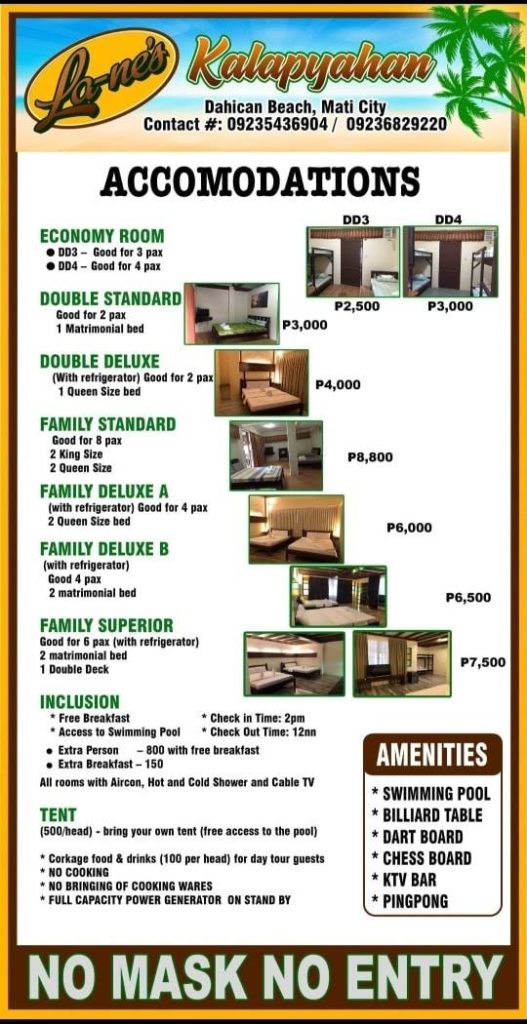 OTHER INFORMATION:
HOW TO GET THERE?
Exact location: Dahican Beach,Mati City, Davao Oriental, Mindanao
BY BUS: Book a flight bound for Davao City. From there, you can ride a bus (Bachelor Express) that goes to Mati City (via Panabo City) at the Ecoland Terminal. Fare is at P240 and takes 4-6 hours. Once in Mati City, you can hire a tricycle to La-Ne's Kalapyahan Resort (P40-P100).
BY VAM: Book a flight bound for Davao City. From there, hop on a van bound for Mati City. The vans are located at Gaisano Mall or at Victoria Plaza. Fare is at P220 and takes 3-4 hours. Once in Mati City, you can hire a tricycle to La-Ne's Kalapyahan Resort (P40-P100).