Eastern Samar is a province that faces the Pacific Ocean, hence, they never run out of beaches and islands that are worthy of being featured.
The town of Balangkayan takes pride in the Minasangay Island Eco Park and Resort that is located within the town proper.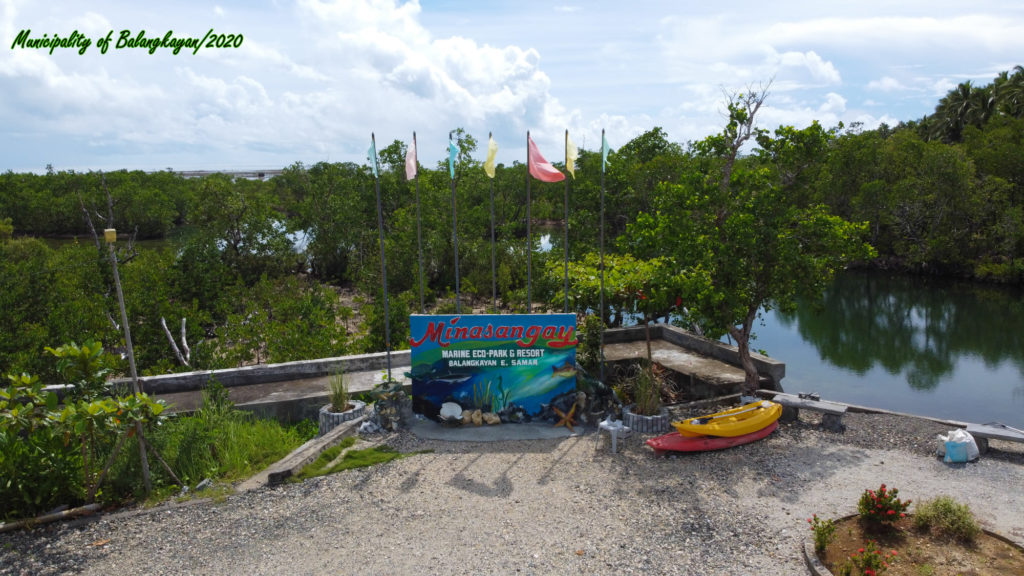 You don't need to travel by boat to reach Minasangay, it is so near to the main island that it is accessible by a cable bridge only. Before reaching this bridge, you will first pass through a concrete path that is surrounded by lots of mangroves, giving you a preview of the blue waters ahead. The cable bridge is suspended over a narrow body of water that is sometimes frequented by kayakers.
Once you get to the main island, you will be amazed by the gigantic rocks distributed all over the place. Some of the cottages are perched on top of these massive rocks, giving you a panoramic view of the resort. For adrenaline junkies, they have diving boards ranging from 5 to 21 feet tall. As you further explore the island, you will pass through cave-like passages, just beside the sea.
There are also lagoons around the island where you can take a swim or do snorkelling, as well as some underwater photoshoot due to the rich marine life in Minasangay. Recently, they also have constructed a viewing deck that gives you a perfect view of the ocean and the mangroves. If you're planning to stay throughout the day or overnight, make sure to bring with you food because there are no nearby stores except for a few small stores that sell chips and drinks.
Minasangay Island Eco Park & Resort is an initiative of the Balangkayan Local Government Unit. The LGU has invested greatly on developing this island in order to boost the town's tourism. Currently, Minasangay has already served as one of the town's biggest source of local revenue. Just last year (2019), the LGU has earned around P4 million from Minasangay, with visitors reaching around 100,000 for the whole year.
RATES & OTHER INFORMATION
DAY USE:
Entrance fee: P20 (adults), P10 (children), P100 (foreigners)
COTTAGE FEES:
Cottage A: P600
Cottage B&C: P350
Cottage D: P500
Picnic sheds: P150-P550 (table, beach umbrella, and chairs)
OTHER INFORMATION:
HOW TO GET THERE?
EXACT LOCATION: Minasangay Island, Balangkayan, Eastern Samar, Visayas
BY VAN: From Tacloban City, ride a van bound for Borongan City. There 4 van terminal options: Van-Van's, Grandtours, Duptours, and Borongan Transport. Fare is around P250 and travel time is 3.5 to 4 hours. Inform the driver that you are going to get off at the entrance to Minasangay Island in the town of Balangkayan. The entrance that leads to the cable bridge is just along the highway.
BY BUS: From Tacloban City, head on to the New Bus Terminal in Abucay. From there, ride a bus for Borongan City. Fare is around P200 and travel time is 4-4.5 hours. Instruct the driver to drop you off at the entrance leading to Minasangay, Balangkayan.