Pink is a color that evokes emotions such as love, compassion, and peace and a beach with the same color can make visitors feel exactly just that.
The Pink Beach is already unique on its own because this beach belongs to a family of islands called the Naranjo Group which all have white sand beaches. The Pink Beach was also originally white like its island siblings but its teenage years kicked in and started getting influenced by its environment.
Thousands of years of deposits from the sea of crushed shells and corals started to make their way into the island, slowly mixing with the fine, white sands and eventually giving the sand its pink hue.
The Pink Beach seems like any normal white sand beach on a cloudy day but when the sun is at its peak, the island also starts to turn pink as if it was sunbathing. To fully appreciate the beauty of the island, it is best to visit it during the dry season which lasts from February to May.
The Pink Beach is relatively new as a tourist spot and Sila Island is not yet fully established as an island-resort so there aren't many facilities and accommodation for tourists yet.
The waters around the Pink Beach are dotted with colorful corals inhabited by fishes. Early in the morning or before noon, you will be able to witness the local jellyfishes taking a swim near the island. There are also locals who are willing to rent their boats to take tourists on an island hopping and swimming. The waters around the island are also ideal for snorkeling because of the unexploited coral reefs.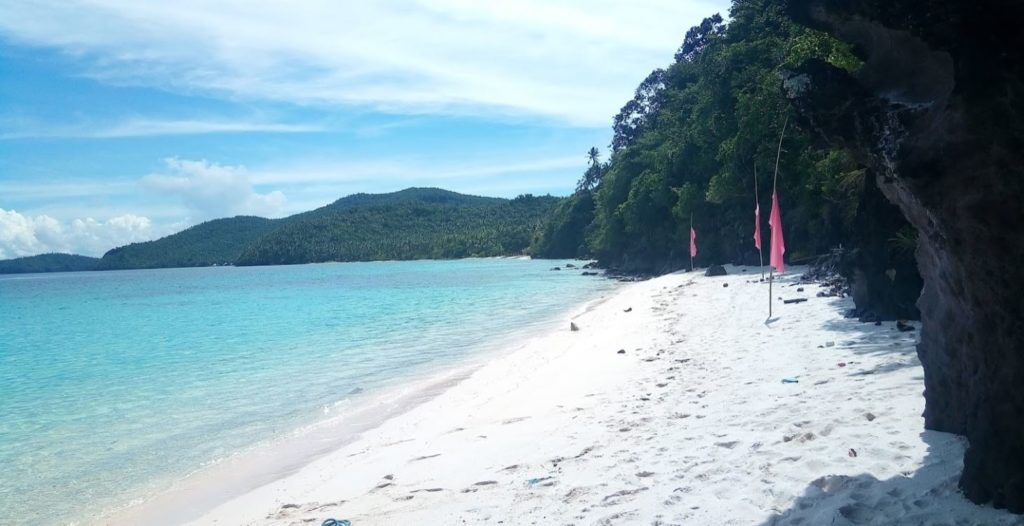 RATES & OTHER INFORMATION
Entrance fee
Adults: P40 per head
Children below 10 y/o: P20 per head
Cottage Fees
Day Use: P500
Overnight: P650
Space for Tent/s: P 100
Other Information
Contact number: 0948-018-1281
HOW TO GET THERE?
Exact Location: Sila Island, San Vicente, Northern Samar
BY PLANE: From Manila, ride a plane going to Catarman – the capital of Northern Samar. Upon arrival, ride a van going to Calbayog which is the nearest city to San Isidro. San Isidro is the jump-off point to San Vicente. NOTE: This is the most expensive option but also the shortest trip.
BY BUS: There are direct trips from Manila to Calbayog but take a longer time than a plane. From Calbayog, take a 45-minute boat ride to San Vicente. There are also special trips from San Isidro to Sila Island that cost around P7,000 to P9,000 depending on the negotiation.