The longest bridge in the Philippines, the San Juanico Bridge can be found in Eastern Visayas (Region 8).
The said bridge which was inaugurated on the year 1973 was, as Waraynons consider it, a grand gift by then President Ferdinand Marcos to his wife, Imelda, who hails from the province of Leyte. It is sometimes referred to as "The Bridge of Love", with its groundbreaking ceremony done on his wife's birthday.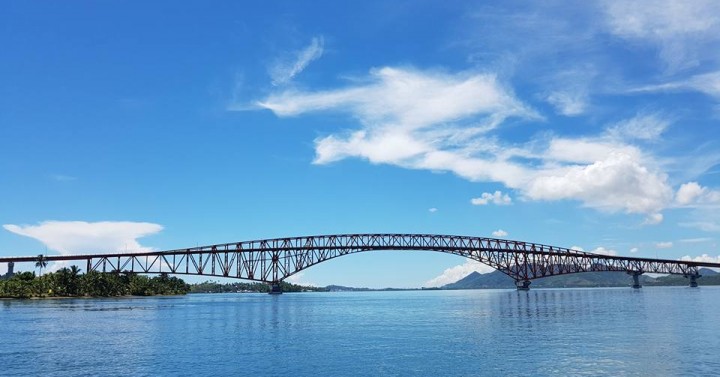 The San Juanico Bridge is approximately 2.1 kilometers long and 10.6 meters wide. It connects the province of Leyte to the nearby island of Samar and looms over the narrowest strait in the country, the San Juanico Strait.  On one end is the municipality of Sta. Rita, Western Samar while on the opposite end is Barangay Cabalawan of Tacloban City, Leyte. Its construction took 4 years to complete and amounted to $21.9 million.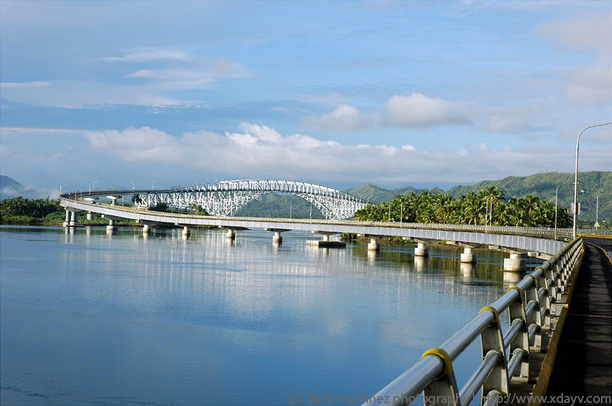 The opening of the bridge has boosted the local economies of the provinces of Leyte and the 3 provinces in Samar Island, allowing easy passage of goods and transportation of locals in between provinces. But aside from this, San Juanico bridge also serves as one of the top tourist attractions in the region.
It is rare to pass by without seeing tourists walking from end to end or taking pictures. It takes approximately 5 minutes by car or 40-50 minutes of walking from one end to the other, then back.  The bridge is relatively safe, with police checkpoints stationed 24/7 on both ends.
The best time to visit San Juanico is on an early morning or late afternoon to avoid extreme heat if ever you plan to cross the bridge (which most tourists do!). Doing so, you get to visit two provinces in less than an hour!
On October 2020, the Department of Tourism initiated a project to illuminate the bridge to attract more tourists. Check out these amazing photos of the San Juanico Bridge: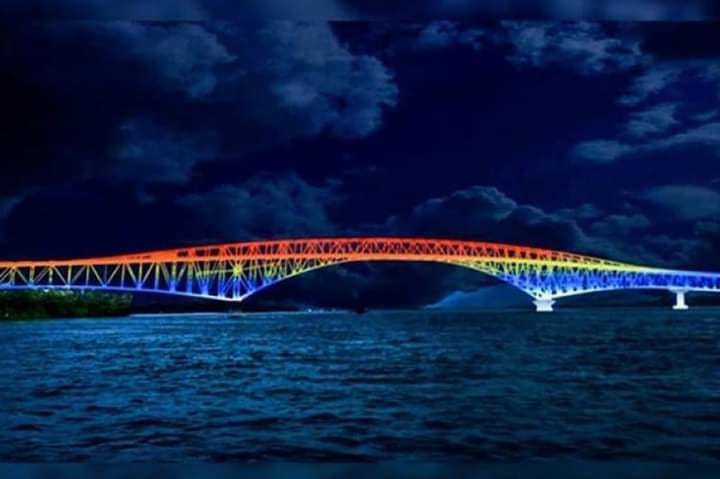 With or without lights, this wonder of modern engineering is already enough reason in itself to be visited!
HOW TO GET THERE?
Exact location: Maharlika Highway, Barangay Cabalawan, Tacloban City
BY JEEP: If you are coming in from Tacloban City's DZR Airport, ride a jeep going to the downtown area (P10-P15). Travel time is 20-30 minutes. Get off at McDonald's near Gaisano. From there, ride a multicab to Tacloban's New Bus Terminal (P8-P10). At the terminal, ride a jeep bound for Basay or Sta. Rita (P30-P40) and instruct the driver that you're going to stop at San Juanico bridge. Travel time is around 30 minutes.