Who says summer is over? In Surigao, the season is never-ending!
The year-round allure of Surigao, with its timeless beauty, draws tourists regardless of the season.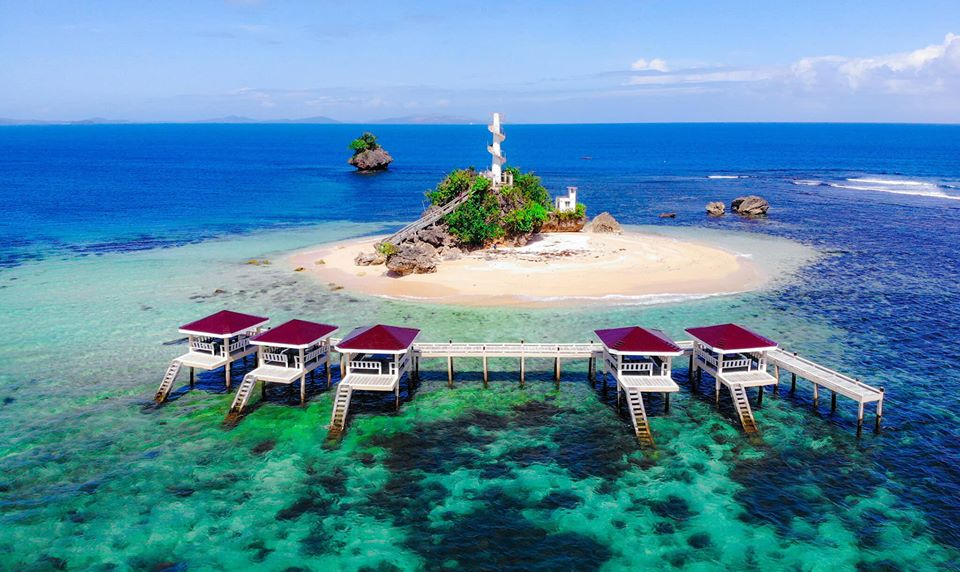 This charming province, located in the center of the Philippines, is home to a spectacular array of pristine beaches, mesmerizing waterfalls, and breathtaking scenery that will capture you.
Even after summer is over, Surigao's attraction persists, luring daring individuals to discover its undiscovered gems. Surigao invites you to discover its timeless beauty and make lifelong memories, whether you choose to go diving in blue waters, take daring adventures, or simply relax in the quiet of nature.
Let us see what it has to offer us!
1. Kabujuan Islet
Kabujuan Islet is an island that is tucked away in Surigao. It offers a spectacular glimpse of paradise and is so exquisitely beautiful that it reminds one of a little Maldives!
Despite having a straightforward appearance, this island exudes a charm that astounds tourists.
The Kabujuan Islet offers a calm getaway into a realm of tranquility with huge blue waters that extend as far as the eye can see.
Inviting snorkelers and divers to explore its vivid coral reefs overflowing with colorful fish and interesting sea critters, the shimmering surface conceals a rich and diversified marine life.
The island also has a lighthouse, which invites intrepid travelers to enter and explore its secrets, adding to its allure.
RATES & OTHER INFORMATION
RATES:
Environmental Fee: ₱10 per head
Boat (Rental): Estimated ₱1,000 (good for 10 pax)
HOW TO GET THERE?
Exact location: Kabujuan Islet, Claver, Surigao del Norte, Mindanao
From Butuan, ride a Bachelor Bus to Surigao City.
From Surigao City, ride a Bachelor Bus to Tandag or a van to Hayanggabon at the Surigao City Terminal. Drop off at Brgy. Panatao, Claver. Walk to the Panatao Port.
2. Lapsay Lagoon
Next on our list, we have a place that is dashingly beautiful – I, myself, am amazed!
Escape to Surigao del Norte's Lapsay Lagoon, a hidden treasure that seems to have been plucked straight out of a fantasy novel.
Photo by Ronnamae Baluca Felias

Photo by Ronnamae Baluca Felias

Photo by Ronnamae Baluca Felias

Photo by Ronnamae Baluca Felias

Photo by Ronnamae Baluca Felias

Photo by Ronnamae Baluca Felias

Photo by Ronnamae Baluca Felias

Photo by Ronnamae Baluca Felias

Photo by Ronnamae Baluca Felias

Photo by Ronnamae Baluca Felias

Photo by Ronnamae Baluca Felias
As you enter this ethereal sanctuary, you will enter a world of calm and peace. The clean waters of Lapsay Lagoon and its unspoiled surroundings provide a stunning scene that is both tranquil and breathtaking.
It has an underwater habitat blooming with marine life, undiscovered caverns, and coves just waiting to be explored because it is a protected marine sanctuary.
Take a raft across the tranquil waters and set off on an adventure, or go snorkeling and discover the treasures below the surface.
Lapsay Lagoon enables you to experience the magic whether you're looking for a tranquil vacation or an exhilarating exploration.
RATES & OTHER INFORMATION
DAY USE (Tinago Holiday Resort):
Entrance fee: ₱150 per head, inclusive of all the activities you can do in the resort
2 cottages: ₱1,500 each (for groups)
Boat Fare: (back and forth) arranged by the caretaker of the resort

Solo: ₱100
Group: ₱1,300 /13pax
Operating hours: 10AM to 5PM daily
OTHER INFORMATION:
Corkage fee: None
Contact numbers: +639487972358, +639487972356, 09306254616
Email address: N/A
HOW TO GET THERE?
Exact location: Tinago holiday resort, Tinago Island, Tagana-an, Surigao del Norte, Mindanao
BY BUS: From Butuan city, ride in a bus or van bound to Surigao city. Travel time is about 3hours. Tell the driver to drop you in crossing Libas Tagana-an (Waiting shed). Fare: P400
From the crossing, hail a habal-habal that will take you to the wharf area just in front of Tagana-an Public Market Barangay Sampaguita, a few walks from the Municipal Hall. Fare: P40 (back and forth)
From there, you have to ride in a motorboat going to Tinago Holiday Resort, travel time is 10-15 minutes.
BY VAN: With a group, travel from Butuan to Brgy. Sampaguita (Back & Forth). Fare is P4,500 /13 pax
3. Bucas Grande Islands
The islands of Bucas Grande is a secret gem just waiting to be found!
The group of islands is a living testimony of nature's incredible diversity and offers a wide range of magnificent vistas that will impress you.
Bucas Grande boasts a patchwork of natural wonders that wait to be discovered, from charming coves to enigmatic caves, quiet mangrove forests to glittering lakes and lagoons.
The peaceful coexistence of the islands' inhabitants with the neighborhood adds to its uniqueness because they depend on the abundant resources for their livelihood, which is primarily derived from fishing and sustainable practices.
A sanctuary where the wonder of the natural world and the fortitude of its people coexist to produce a genuinely spectacular location, Bucas Grande is a true marvel.
RATES & OTHER INFORMATION
Room Rates:
For those who are in a budget, these are the suggested places to stay that are managed by the local cooperatives:
Cinnamon Island Cottage
Managed by Strengthened Association of Volunteers for the Environment of Sohoton (SAVE Sohoton)
Rate: P2,500/room per night with free breakfast (for 1-5 person); additional P500/person in excess of five
Contact number: 0948-820-5835 Roldan (Operations Manager)
Tiktikan Lake Cottage
Managed by three people's organization named TASG
Rate: P150-200 per person (Open air cottage)
Contact number: 0939-904-7019 Dodo (Sohoton Tourism Operations Manager)
SIFAI Cottage
Managed by Sohoton Integrated Farmers Association Incorporated
Rate: P1,000/room per night (good for 3 persons)
Contact number: 0939-904-7019 Dodo (Sohoton Tourism Operations Manager)
How to Get There?
Exact Location: Bucas Grande Island, Socorro, Surigao del Norte, Mindanao
BY BOAT: If you are already touring around Siargao, you can hire a boat in General Luna that will take you directly to Sohoton. Boat ride is P3500 for 1-4 persons and covers the round trip already. Bear in mind that this fee covers only the transfer from Siargao to Sohoton and back and not the fees within Sohoton Cove.
Another option will be for you to ride a boat from Dapa Port headed for the town of Socorro (P100 per person) which leaves around 7-8AM daily. From Socorro, you can get a guided tour to Sohoton priced at P2000 per boat which is already good for 10 persons. But again, these fees only cover the transfer from Socorro to Sohoton and back.
4. Mabua Pebble Beach
Yup, it is just like what it sounds like.
Last on our list, we have Mabua Pebble Beach in Surigao City.
Mabua Pebble Beach is home to a shoreline covered in gleaming, flawless pebbles that is certainly one-of-a-kind and a sight to behold.
This treasure of a pebble-lined beach gives a special appeal that makes it stand out from other beaches, unlike ordinary sandy beaches.
Mabua Pebble Beach has earned a place in people's hearts as a beloved classic because of its enduring beauty and serene ambiance.
The beach transforms into a backdrop for stunning sunset views as the sun begins to set, bathing the sparkling pebbles in a warm golden hue.
Mabua Pebble Beach stands as a tribute to the miracles of nature and serves as a gentle reminder that even in the absence of fine sand, the beauty of a shoreline may still captivate our hearts and move our spirits.
RATES & OTHER INFORMATION
DAY USE:
Entrance fee: Free to P100/head (depends on where you are staying or entering from)
Opening hours: n/a
COTTAGE RATE:
Cottage Rental Fee: starts at P500
Camping: Depends on where you set-up camp. Ask permission first. Some allow camping, some don't.
OTHER INFORMATION:
Corkage fee: NONE
Contact numbers: N/A
Email address: N/A
Facebook Page: N/A
Where to Stay in Surigao City
Parkway Hotel
Hotel Tavern Surigao
Philippine Gateway Hotel
Ey Miner Suites Borromeo Branch
HOW TO GET THERE?
Exact location: Mabua Pebble Beach, Brgy. Mabua, Surigao City– approx. 30 mins away from the city.
BY PUV: Once in Surigao City, ride a tricycle or habal-habal (motorcycle taxi) to the pebble beach with fare around P50 to P100 one way. (depending on your haggling skills). ETA is 30 minutes. Then, get off at Mt. Bagarabon Mountain Resort and make your way past their Hajahay Suites towards the pebbled shore. Climb the carved steps off the side of a small hill onto the other side of the hill where you'll find the pebble beach. If you don't prefer to walk, you may rent a banca (small fishing boat) to take you to the pebble beach.
BY CAR: Navigate with Waze or Google Maps and set your destination to "Mabua Pebble Beach" in Surigao City. A 30-minute drive from the city center.
A treasure trove of natural gems, Surigao offers a selection of breathtaking locations that leave a lasting impression on those who come there to explore them.
Surigao's offerings are nothing short of amazing, from the tranquil and timeless beauty of Surigao del Sur's hidden gems to the ethereal charm of Bucas Grande Island's varied landscapes and the special allure of Mabua Pebble Beach.
These locations entice visitors to experience the mystique of nature, take in breath-taking views, and embrace the serenity that only such exceptional surroundings can offer.
Remember the captivating charm of Surigao, where the wonders of the natural world are waiting for you to discover, as you set out on your next trip.