Bohol is the hub of a plethora of unique geological formations and fauna, so eye-catching the whole world can't just seem to blink. Mostly known for the Chocolate Hills that change in color depending on the season, Bohol has a lot more to offer. From their 1,000+ cone-shaped hills to their beautiful turquoise water forms and man-made attractions, you just have to see for yourself why it is one of the most magnetic islands in the Philippines despite the other 7,106 within the archipelago.
Here is your ultimate 2023 guide if you're wondering what to put in your itinerary for your Bohol trip:
Blood Compact Monument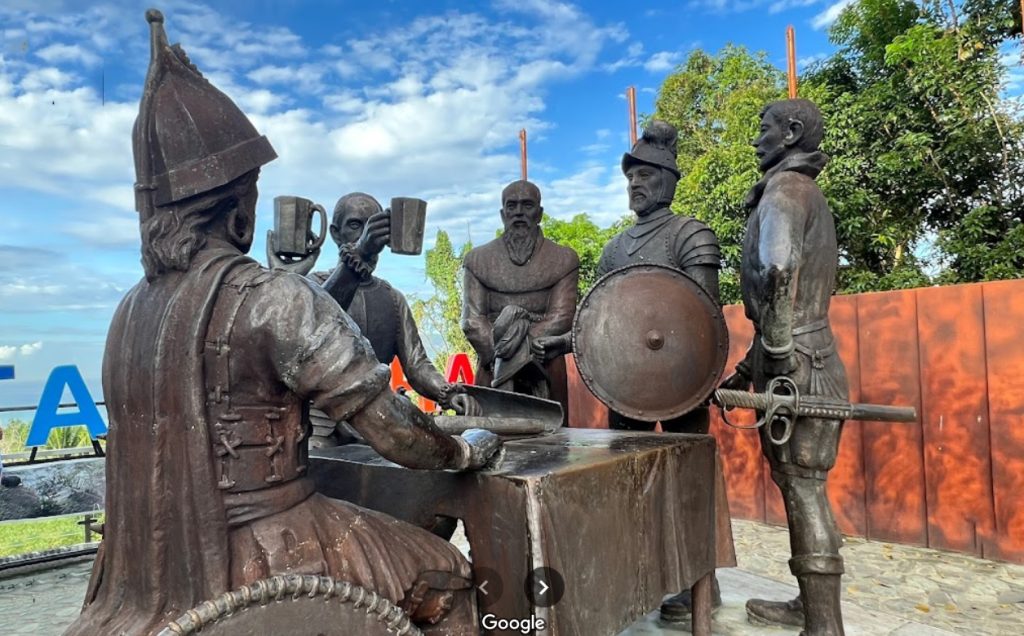 Sandugo, literally translating to one blood, is a moment integral in Filipino history as it was the first international treaty between the Philippines and Spain. The Blood Compact Monument was made to honor the event that took place on March 16, 1565, wherein Datu Sikatuna and General Miguel Lopez de Legazpi, among others, cut their arms to mix it with wine as a symbol of diplomacy.
The shrine was made by the great Boholano artist Napoleon Abueva. The monument consists of 5 life-sized bronze statues of the men involved in the compact gathered around a table with their cups of wine.
Exact location: J.P, EK Inting St, Tagbilaran City, 6300 Bohol
Man-made Forest
The Bohol Mahogany Forest, more commonly known as the Bilar Man-Made Forest, is a thick tropical wonderland full of rows and rows of trees reaching up to two kilometers. Being part of a reforestation project that started half a decade ago, you can see arrays of white and red mahogany trees along the road whose shade takes away your worries if you ever decide to go there during warmer seasons.
This is a perfect stop-over if you plan to go to the Chocolate Hills since the latter is just on the way. There are numerous blogs and pictures of tourists online wherein they stand in the middle of the road with the trees serving as the most picturesque background, and the harmony of the shades of the trees as well as their tall trunks, truly make you feel like the whole place is otherworldly.
Exact location: Loay Interior Road, Bilar, Bohol
Chocolate Hills
I can't recall how many versions of urban legends and folklore I have heard about the Chocolate Hills as a child. There is a version wherein giants apparently fought each other using balls of soil, another one about the hills changing clothes, and another about overweight cows and men trying to be fitter through defecation (this version seems to be funnier and more graphic than most).
Bohol and Chocolate Hills go hand in hand at this point, and you will never hear about one without the other. It is the site that Bohol is most known for, as everyone stares in wonder at the landform that almost has the characteristics of a chameleon. These wonders spread over 50 square kilometers, with the mounds estimated up to 1,776. It spans five towns in total, namely Carmen, Sagbayan, Bilar, Sierra Bullones, and Valencia.
Descriptions can only do so much to try to explain this beauty, so if you can, it's highly suggested that you go see for yourself.
Exact location: Brgy. Buenos Aires, Carmen, Bohol
Philippine Tarsier Sanctuary
Philippine Tarsier Sanctuary, Bohol | Photo from Philippine Tarsier Foundation, Inc

Philippine Tarsier Sanctuary, Bohol | Photo from Philippine Tarsier Foundation, Inc

Philippine Tarsier Sanctuary, Bohol | Photo from Philippine Tarsier Foundation, Inc

Philippine Tarsier Sanctuary, Bohol | Photo from Philippine Tarsier Foundation, Inc

Philippine Tarsier Sanctuary, Bohol | Photo from Philippine Tarsier Foundation, Inc
Being one very unique primate that stood the tests of time and natural selection, Tarsiers have always gagged people with their overall size, which is directly contrasted by how big their eyes are. The Philippine Tarsier Sanctuary in Bohol is the place to go if you ever want to witness this endangered species.
The Philippine Tarsier Sanctuary was built for the conservation of tarsiers. These animals are exclusive to Southeast Asian regions, and their endangerment is truly alarming as all animals deserve to thrive in the same world we are in, as well as the fact that they are important to both national and regional identities. The sanctuary has an exhibition area, cafeteria, audiovisual room, research center, library, and conference rooms that all contribute to helping keep the place safe for the tarsiers and maintain an interactive environment for visitors as well.
Exact Location: Tarsier Sanctuary Rd, Corella, Bohol, Philippines
Alona Beach
Located at the south-west tip of Panglao Island, Bohol in the Philippines, Alona Beach is full of natural elements that will keep you glued to the place – from its white sand, clear and pure waters, to its rocky cliffs, it truly makes you appreciate the beauty of Visayas and the fact that the beaches in the place are not as rigidly urbanized.
With the beach being situated near coral reefs, it is no surprise that it is a popular scuba-diving and snorkeling spot.
Exact Location: Panglao Island, Bohol, Philippines
Virgin Island
Despite its name, Virgin Island is actually not an island but a sandbar that only unveils itself during the low tide. It earned its first name because the place is uninhabited, although recent developments led to food stalls and tourists filling the place.
It's still the experience of a lifetime to be able to go there and witness the parting of the water when the low tide comes. Pictures make it look like you're on top of the water, and the blue beach just truly never fails at being so magnetic.
Exact Location: Panglao Island, Bohol, Philippines
Hinagdanan Cave
Again boasting a beautiful natural scenery combined with rich history, Hinagdanan Cave is both a renowned tourist attraction in Bohol and a cultural gem. In the Second World War, this cave was used by Boholanons to hide from the Japanese army. It was accidentally discovered by a farmer when he was working. Having found two holes, he dropped a stone to see what might be down there. He then built a ladder to explore the cave. This is where Hinagdanan got its name from as "hinagdanan" literally translates to "laddered".
Hinagdanan is classified as a karst cave, meaning that it is made of limestone. It houses stalactite and stalagmite formations, which reflect on the lagoon below, creating a glistening glow.
You may visit the cave to explore it, and you may also take a swim in the lagoon if you like!
Exact Location: Bingag, Dauis, Bohol
How To Get From Cebu To Bohol
There are different ferries with varying routes that you can take to get to Bohol, but here are two options you can consider:
Cebu to Tagbilaran: With a travel time of 2 hours, you will dock at Tagbilaran upon arrival, and from there, Panglao is only a 30-minute drive away. Since Panglao is where most tourist sites are located, this is one of your best possible options.
Cebu to Tubigon: With only 45 minutes of travel, this is your best option if you're planning to tour or stay in the mainland. It also makes it easier for you to go around the place since it is a very accessible location.
You may book your ticket here for a faster transaction: https://12go.asia/en/ferry/cebu/bohol/
With different options of public transportation, it is easier to get around Bohol and go from one place to another if you really want to get to know the place. You can also rent a car if you want a smoother flow for your journey. Either way, you know for a fact that Bohol is definitely worth it, and that you have to come at least once. Get to know the region more through going to Bohol, the heart of Visayas.