Cuatro Islas (which means "four islands") are four unique islands that are teeming with life and natural landscapes. The islands are located within the sea area of Indang and Inopacan towns in Leyte. The islands of Digyo, Mahaba and Apid belong to Inopacan, while Himokilan Island is part of Hindang.
Digyo Island is the smallest island in Cuatro Islas. But just because it's small doesn't mean it's less of a charm. Digyo is considered the "Little Boracay of Inopacan." It boasts two white sand bars from both ends of the beach area.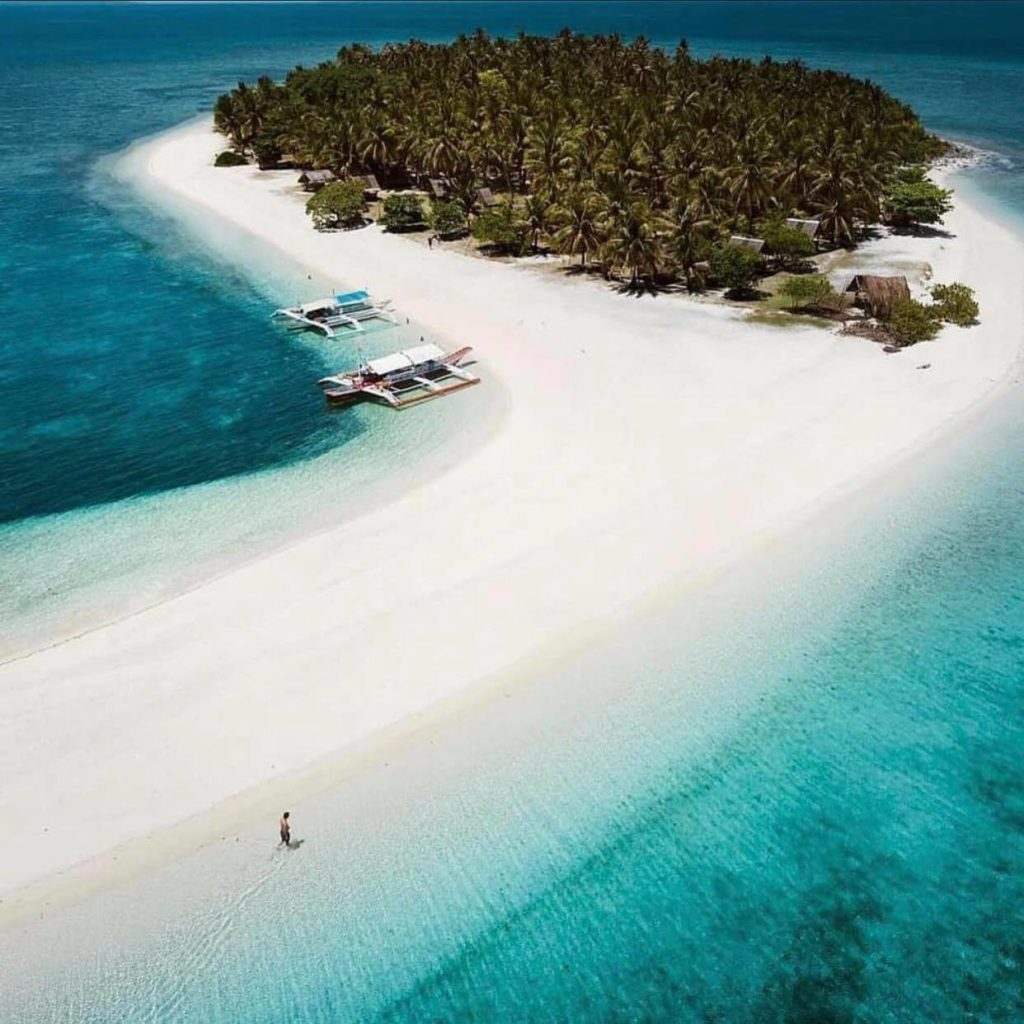 It is a paradise. It's covered with lightly swaying coconut palms and 'Talisay' trees and surrounded with seawater that changes colors depending on the shifting of the tides – from dark blue, turquoise blue to turquoise green. Its creamy white sand can lull everyone to scamper and frolic to their heart's content. You don't want to miss taking a photo here for an Instagram post.
You and your friends can bask in the heat of the sun as you lie on its white sand beach or you can go swimming through its clear waters. Snorkeling is also a must-do activity while in Digyo Island. Oases reef diving can also be done here.
Probably the best part of being in the island is that you can camp overnight. Who wouldn't want a good night sleep underneath the bright stars and the sound of the waves as the lullaby while soaking in the salty fresh air from the sea? No one because everyone wants a taste of this mood.
You can bring your own camping gears or pay for camping gear rentals. There are locals who visit the island to sell snacks, cold beverages coffees and other items. Some fishermen also come here to peddle their fresh catch seafood.
Living up to its name, the island can be orbited for a 5-10 minute walk. This is also a sea turtle nesting site.
When going to Digyo Island, you also get the chance to visit the other islands of the Cuatro Islas. The boat fee that you'll be paying is also inclusive of a tour to the rest of the islands so you can also witness and feel the goodness of what the other islands can offer.
As of writing, the entire Cuatro Islas is not yet open for the public.
RATES & OTHER INFORMATION
FEES:
Entrance fee: P30 (Filipino), P100 (Foreigner)
Maintenance and Protection of Hindang and Inopacan fee: P100/head
Environment Fee (Apid and Brgy. Himokilan): P 20/head
COTTAGE RATES:
CLOSE COTTAGE: P500 / unit
OPEN COTTAGE: P300 /unit
CAMPING TENT: P250 /unit
TABLE: P50 to P100 /unit
CHAIR: P20 to P50 /unit
SPACE RENT: P50 /unit
DOCKING FEE: P 1,000 (for boat not registered in LGU-Inopacan ferrying passengers to Fabulous Tres Islas)
BOAT RATES:
10 passengers and below: P3,000
11 – 20 passengers: P4,000
21 – 30 passengers: P5,000
Additional fee for boat (for overnight passengers below 10 capacity): P500
Note: Boat rates stipulated above is for the four (4) islands already (from mainland of Inopacan & Hindang, Leyte to Himokilan, Mahaba, Apid & Digyo.) Motorboats are scheduled to travel from 7am-5pm.
OTHER INFORMATION:
HOW TO GET THERE?
Exact location: 30 minutes boat rode from the mainland Inopacan, Leyte, Visayas
BY PLANE: You can take a direct flight to Tacloban Airport (Daniel Z. Romualdez Airport). From Tacloban City, you can ride a van with "Tacloban-Maasin" route to Inopacan, Leyte. Travel time from Tacloban City to Inopacan thru van is approximately 2.5 hours. The fare per person may cost less than P250.
You can also fly to Ormoc. From Ormoc, Inopacan is just an hour and 45 minutes of travel riding the van which costs P95.00.
Either coming from Ormoc or Tacloban, tell the driver to drop you off in Inopacan near the town hall where you can walk for 10-15 minutes straight to the town's baywalk which is situated at the back of the Municipal Hall.
BY FERRY: Ride a Supercat or OceanJet fastcraft to Ormoc. Travel is 3 hours and fare is P800 (Supercat) & P1000 (Oceanjet) for tourist class seat. From there, Inopacan is just over an hour away by van which costs P95.
Also read: