Flowers are often a symbol of life on the planet. Their vibrant colors and stunning beauty are indicative of the natural energy that exists in our planet. In poems and stories, the blossoming of flowers are used as a metaphor to signify birth and new beginnings.
In real life, they are used as a physical representation of the love and admiration that we feel towards the people that we give them to. Ultimately, flowers are always used to represent something beautiful and a field of flowers always, unfailingly, take our breath away.
The Philippines is one of the best countries to see various types of flowers due to its tropical climate. Due to the country having a balanced season throughout the year and not experiencing extreme heat or cold, many plants and flowers survive and thrive in its lands.
Wth the amount of flowers existing in the country, it would be a waste to not be able to explore them.
Here are 6 beautiful flower gardens in the Philippines that will surely take everyone's breath away.
1. Buwakan ni Alejandra in Cebu
Buwakan ni Alejandra, translated to "The Flower Garden of Alejandra" in english, is a truly beautiful flower garden arranged in a harmonious manner that makes the colors of the plants meld beautifully with one another to create a piece of art. The playful colors are not in any way overwhelming to eyes and are even quite mystical to the sight.
The site where the flowers are has witnessed a lot of events happen in the past since the time of the Japanese colonization but it has only gained attention a year or two ago after the owners decided to renovate and landscape it. The garden is 700 square meters in size with a variety of flower species thriving in it.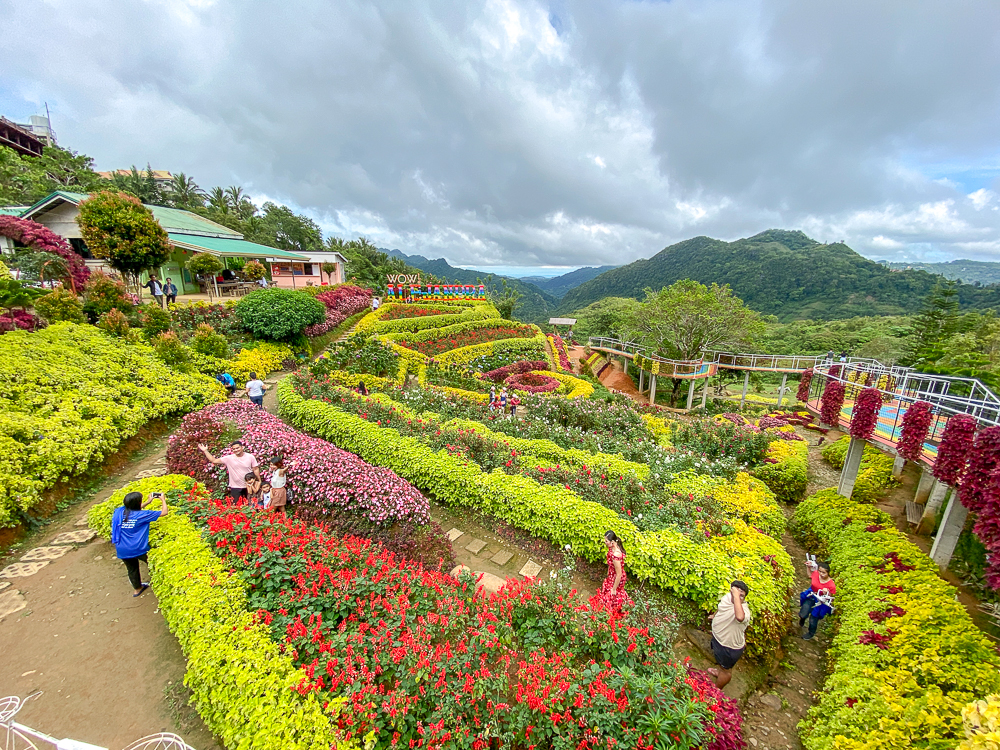 Exact Location: Brgy. Gaas, Balamban, Cebu – a few meters away from Adventure Cafe
ENTRANCE FEE:
Adult: P55 per head
Kids: P25 per child
PWD/Senior Citizen: P30 per head
OTHER INFORMATION:
Read more about this attraction here: https://sugbo.ph/2020/buwakan-ni-alejandra/
2. Sirao Flower Gardens in Cebu
A flower garden destination in the barangay of Sirao, aptly nicknamed "Little Amsterdam", is the Sirao Flower Garden. It is divided into two sections: The Original Sirao Flower Garden and the Pictorial Garden and Camping Site.
The Original Garden is the site filled with different species of colorful flowers while the Pictorial Garden features an infinity pool and several "Instagrammable" backgrounds that will surely make your social media feed much more lively.
This flower garden is a famous natural spectacle in Cebu. Reminiscent of Amsterdam's flower gardens, Sirao Flower Garden seeks to bring the same experience to its visitors and at the same time highlight the verdant mountains and cool climate of Sirao. The most famous flower in the garden are the celosias with their bright fiery colors.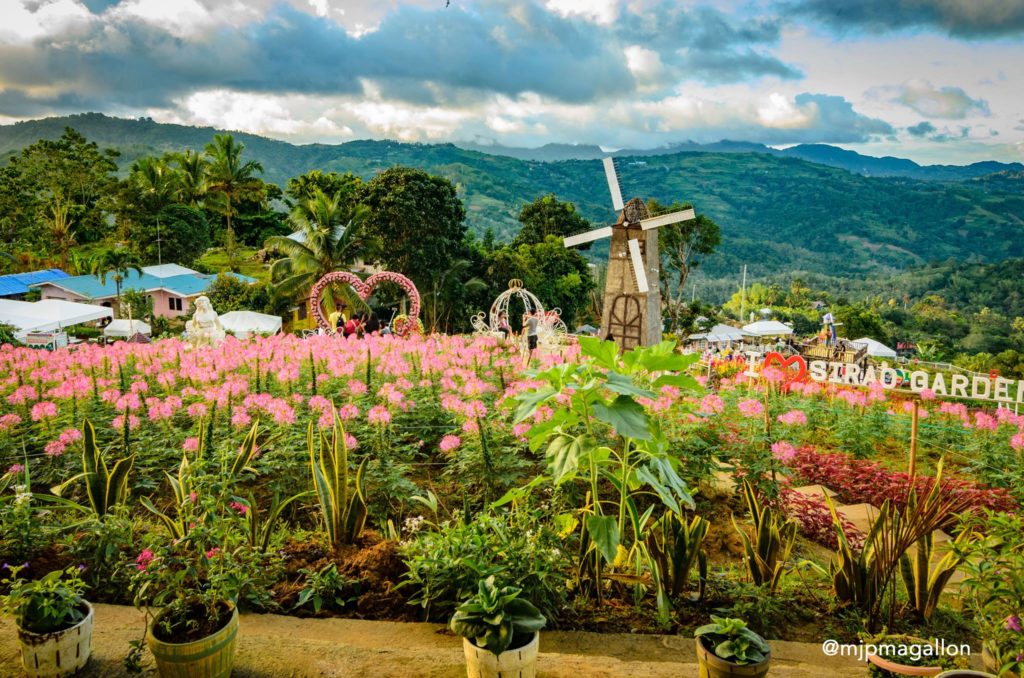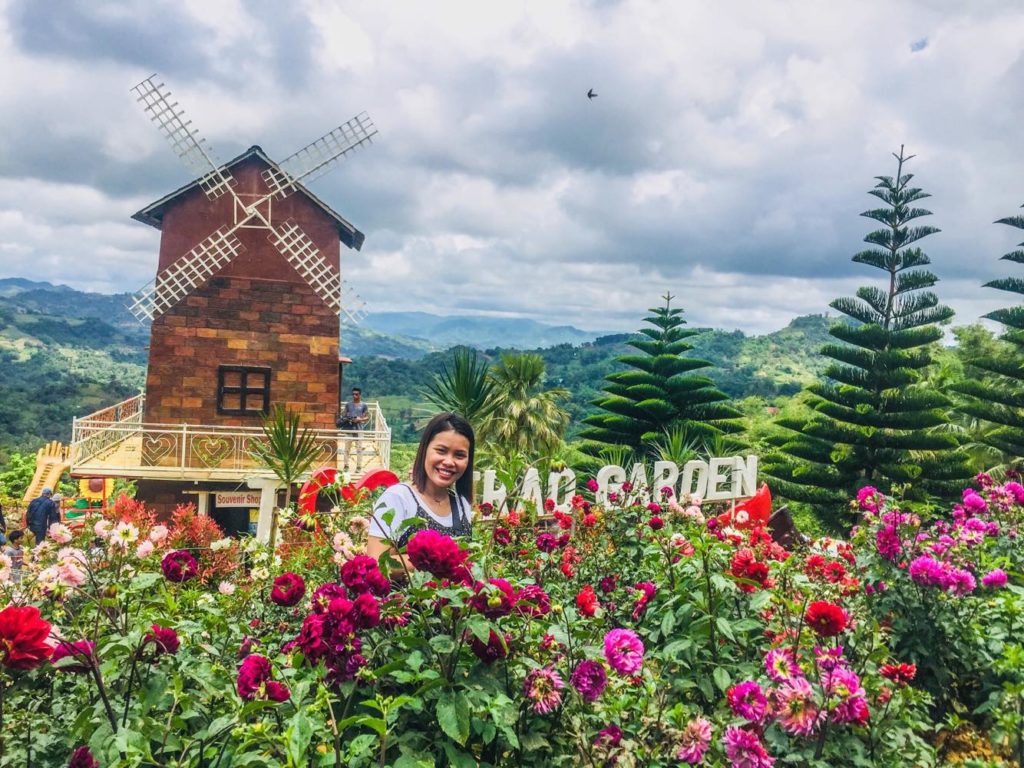 Exact Location: Brgy. Sirao, Cebu City
ENTRANCE FEES:
Original Sirao Flower Garden:

P100 per head
Operating Hours: 6:00 AM to 6:30 PM

Pictorial Garden:

P60 per head
Operating Hours: 6:00 AM to 6:30 PM, 6:30PM to 6:30AM for campers
OTHER INFORMATION:
Original Flower Garden: 0943-706-3437
Pictorial Garden and Camp Site: 0946-937-7891
Read more about this attraction here: https://sugbo.ph/2019/new-sirao-flower-garden-cebu/
3. 16,000 Blossoms in Lintaon
Even artificial flowers still contribute just as much beauty to the world as real ones. The 16 000 Blossoms in Lintaon Peak is a magnificent garden of LED roses situated on the highlands of Baybay, Leyte.
The white and red flowers illuminate the night with beautiful dim lights similar to other artificial gardens like the 10000 Roses Cafe in Cordova, Cebu and Jardin Necitas in Bohol. Aside from beautiful lights and glowing flowers, the garden also has a breathtaking view of the Leyte Cordillera, Camotes Sea and a silhouette of the famous Cuatro Islas.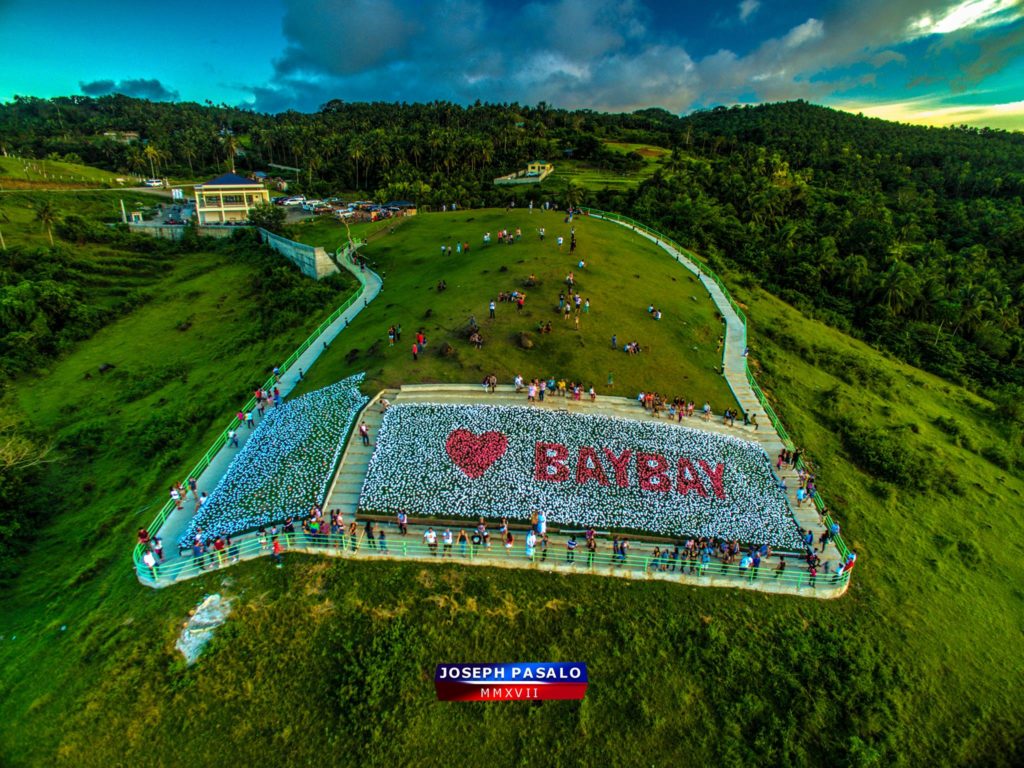 Exact Location: Brgy. Pomponan, Baybay City, Leyte – specifically in Lintaon Peak
DAY USE:
Entrance Fee: P30 per head
Opening Hours: 10:00AM to 10:00PM
OTHER INFORMATION:
Read more about this attraction here: https://vismin.ph/2020/blossoms-lintaon-peak/
4. Jardin Necitas in Bohol
Artificial flowers are symbols of beauties that never fade and the glowing garden of Jardin Necitas in Pilar is one that will surely stay in the memory for a long time. A field full of 20,000 flowers and tulips glowing in different colors is definitely a sight to behold.
The beautiful dim lights will surely make the night more magical and even fill the air with a kind of magic that will make everyone one in it feel in love. Jardin Necitas is a garden of romance and beauty that will surely even make the goddess of love and beauty fall in love with it.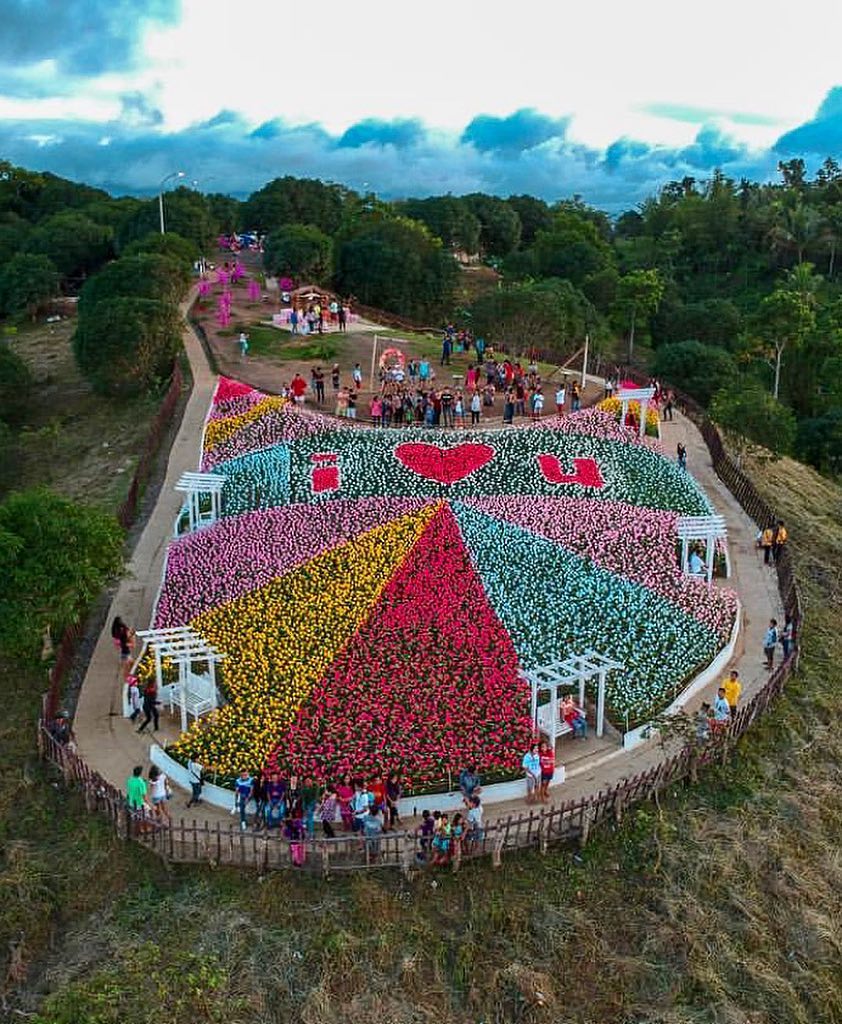 Exact Location: Purok 5, Brgy. Bagumbayan, Pilar, Bohol
DAY USE:
Entrance Fee: P30 per head
Opening Hours: 10:00AM to 10:00PM
OTHER INFORMATION:
Read more about this attraction here: https://vismin.ph/2020/jardin-necitas-bohol/
5. RJ Javier's Tropical Farm in Bohol
Flowers surely bring life to its surroundings so imagine how alive you will feel when visiting RJ Javier's Tropical Farm. Not only do they have flowers but they also have a collection of fruits and vegetables. Hearts will skip a beat as they go through the different gardens filled with sunflowers, celosias, lettuce, cherry, tomatoes, and many more. No one would ever expect to fall in love with fruits and vegetables but the life they exude into the garden is just so overwhelming that people come for a second visit.
This tropical farm is a great place to visit even for those looking for a break from the city because the relaxing activity of picking up fruits and vegetables gives you a unique experience that makes you forget whatever it was you were stressing on. Staying in the farm is a form of therapy that can definitely soothe your nerves.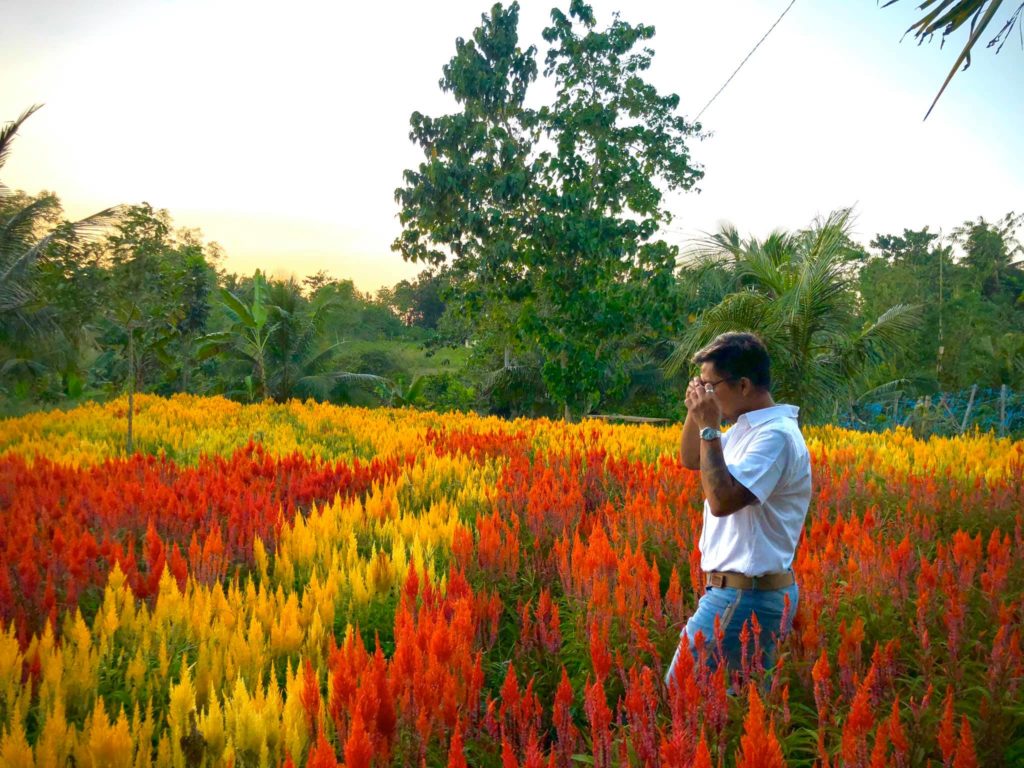 Exact Location: Purok 2, Brgy. Cagawasan, Pilar, Bohol
ENTRANCE FEE:
Flower and Vegetable Garden: P30 per head
Farm Tour: P50 per head
COMBO PACKAGE:
P100 per head
Flower and Vegetable Garden
Farm Tour (with complimentary drinks and fruits)
Read more about this attraction here: https://vismin.ph/2020/rj-javier-tropical-farm-bohol/
6. Heaven's Peak in Ormoc City
Framing the stunning peak of Mt. Aminduen is the heavenly garden of flowers of Heaven's Peak. This postcard destination will take everyone's breath away with its beautiful gardens that look magical as they are surrounded by mist and fog.
Every step that visitors take and everywhere they look is a patch blooming with the vibrant colors of small and large flowers. The verdant backgrounds pair perfectly with the lively gardens and truly makes everyone feel like they're in heaven.
Exact Location: Brgy. Cabintan, Ormoc City, Leyte – neighboring barangay of Lake Danao
DAY USE:
Entrance Fee:

Kids below 12 y.o.: P25 per child

Senior Citizens: P25 per persons

Opening Hours: 9:00AM to 5:00PM
TABLE RATES:
Big Tables: P150
Small Tables: P100
OTHER INFORMATION:
Read more about this attraction here: https://vismin.ph/2020/heavens-peak-ormoc-city/