Still looking for summer adventures you can do with your family and friends?
Fret no more for we will unveil one of the best summer destination in Iloilo – WaterWorld.
Awarded as the Best Waterpark of 2017 by the Philippine Tourism Industry Awards, WaterWorld Iloilo is the first and only water park in Western Visayas making it your ultimate family destination.
If you want to take your family to a whole day getaway, this is the place to be. If you also want to enjoy a day with your whole team, this would be the perfect place for you and your friends to have fun under the sun.
However, if you think that enjoying the waters wouldn't be enough to quench your thirst, they also offer rooms / accommodations where you can also chill and lounge for the whole day.
ATTRACTIONS
LAP POOL – a five-foot deep rectangular pool that also has two tall and spiraling slides for those who want a thrilling slide experience.
FUNTASEA – comprises of nine colorful slides of different heights and two large buckets that, when filled with water, tilt forward and showers swimmers below with an exciting splash.
MAT RACER – One of the extreme slides, grab a mat and go up to the top of the slide and release the adrenaline junkie in you.
RIVER RAPIDS – The most relaxing part of the waterpark. All you have to do is to wear a life jacket, ride one of the floaters and let the current leisurely take you on a floating tour.
SPACE HOLE – The ride is a round-shaped slide that will send you spiraling down in total darkness before releasing you with a big splash into the light once again at the end of the slide.
SPEED SHOOTER – the most extreme slide with a 7-storey tower slide will bring you down the pool in a shooting speed.
THE LOOP – Boasting its five-storey towering height. Speedily slide past four big loops either feet or head first and it will surely leave you breathless when you reach the bottom of the ride.
WATERPLAY – an attraction made for the kids. It's composed of 10 fiberglass fixtures molded into different shapes and decorated with vibrant colors, all topped with tiny water fountains and a pool where little kids can enjoy splashing and wading around under the sun
TODD POOL – specially designed for toddlers so that they can freely enjoy splashing and playing around the pool.
FAMILY SPLASH – As its name suggests, Family Splash is best enjoyed together with a family of three to four people. Form a gang and ride a huge floater to go down a wide and wavy slide ending in a big splash by the squad.
Satisfy your craving after an amazing waterpark experience with mouth-watering dishes from all over the world in their three restaurants: Asian Rapids, Barbecue Bay, and Loops Pizza + Pasta + Ribs.
Day Use Rentals
• AQUA SUITES (10-15pax)
Waterworld Iloilo also offers a number of suites that can accommodate large groups. These suites are all equipped with an air-conditioning unit, television set with cable, comfortable sofas and complimentary Wi-Fi connection. The Aqua Suites are best for those families or barkadas that are planning a whole day Waterworld experience.
Rate: ₱2,000 per day (good for up to 15 pax)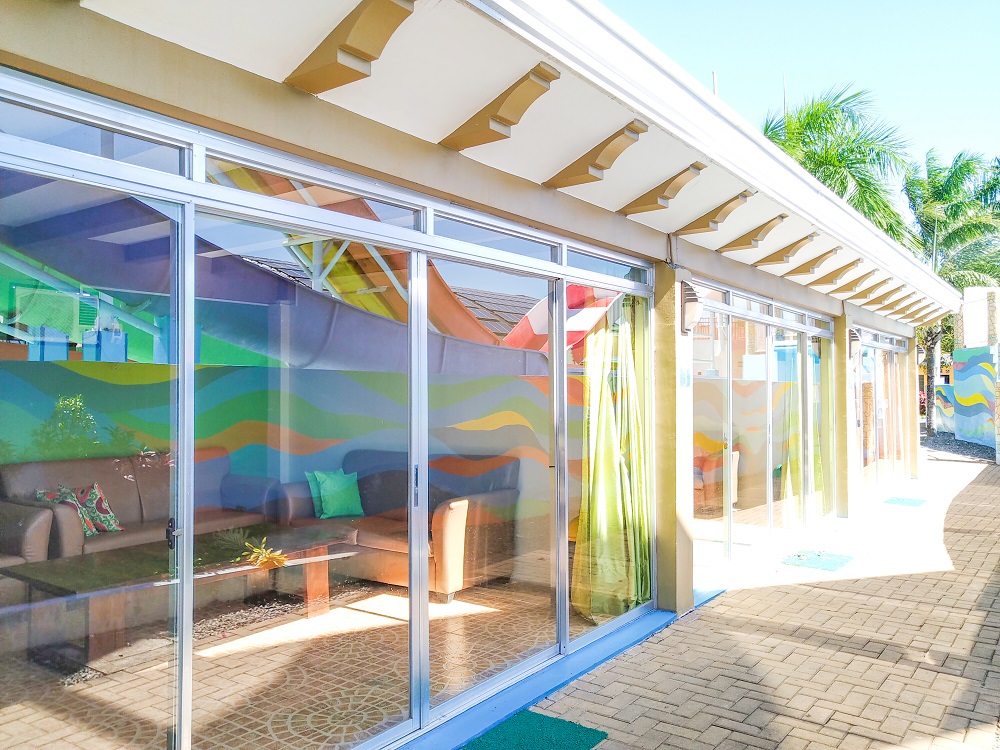 • CORAL CABANAS (8-10pax)
Waterworld Iloilo also has 10 al fresco units of Coral Cabana's. These cabanas have a very distinct summer feel and are perfect for guests that want to make the most out of the vacation vibe here inside the waterpark.
Rate: ₱300 per day (good for 8-10pax)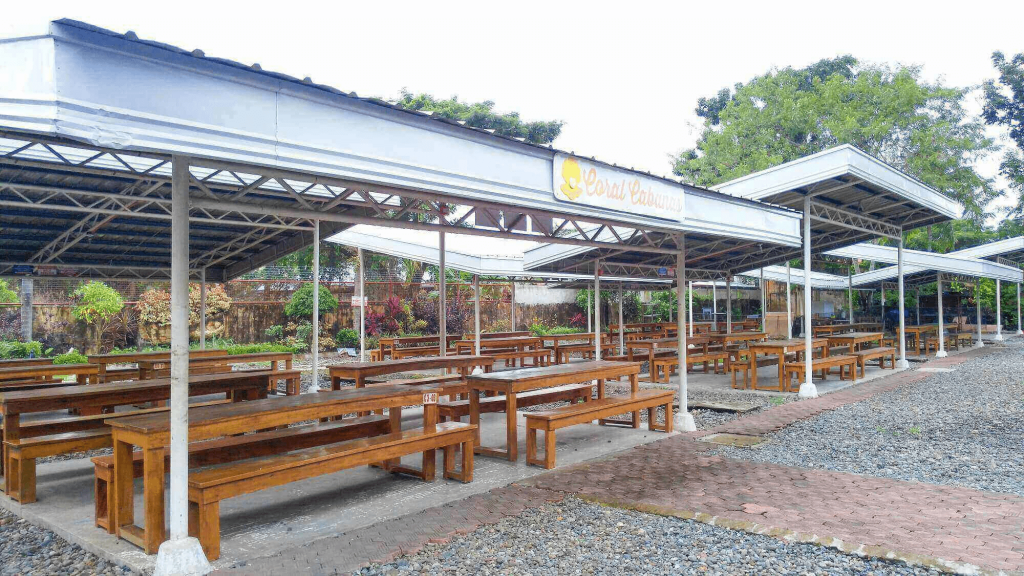 • THE DECK (8-10pax)
The Deck contains well-furnished tables with chairs. It is located at the far side of Funtasea and it also has a wonderful view of the Lap Pool.
Rate: ₱300 per day (good for 8-10pax)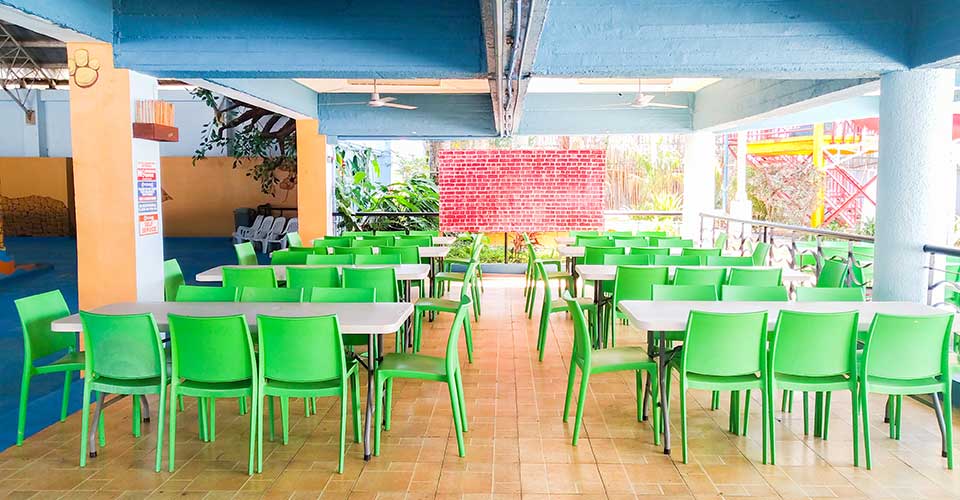 RATES & OTHER INFORMATION
RATES:
Entrance Fee: ₱350 per head with FREE ₱100 worth of food coupons

Kids 2ft and below are free of charge

Coral Cabanas: ₱300 per day (good for 8-10pax)
The Deck: ₱300 per day (good for 8-10pax)
Aqua Suite: ₱2,000 per day (good for up to 15 pax)

Air-conditioned Rooms with Cable TV, Wi-Fi Access, Day-Use only

RFID Lockers: ₱50 per day per locker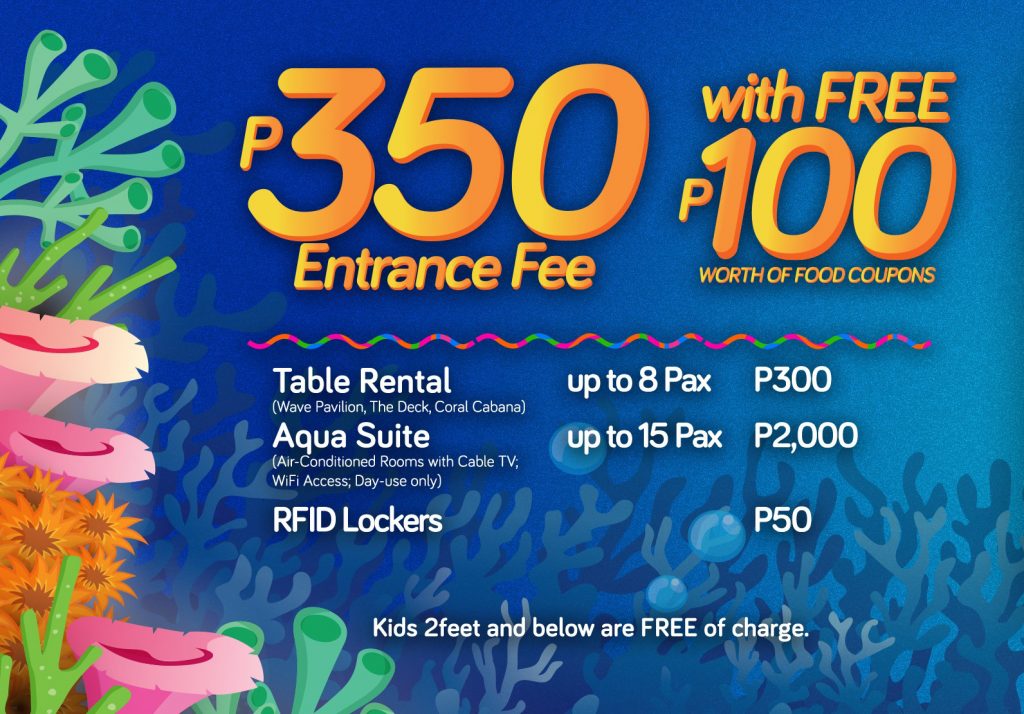 Overnight Rates:
Standard Triple Room: ₱1,700 per night, good for 2pax
Standard Double Twin Room: ₱2,100 per night, good for 2pax
Proper Attire:
Board Shorts
Swimsuit
Bikini
Rashguard
Full Body Swimwear
Swimming Diapers
Goggles
OTHER INFORMATION
HOW TO GET THERE?
Exact Location: Jalandoni Street, Hipodromo, City Proper, Iloilo City, Western Visayas.
FROM THE AIRPORT: From Iloilo Airport, ride a PUV Express Service going to SM City Mandurriao. Travel Time is 25 minutes. From there, ride a jeepney going to to Alta Tierra Village. Travel time is another 20-30 minutes.
By PUV: Take a public jeepney or a cab to Alta Tierra Village in Jaro. PUJ Leganes and Jaro Liko Tagbak are the main jeepneys that can take you there. From the village entrance, Waterworld provides two electronic service vehicles for guests. Else not, you can also take a tricycle to the WaterWorld.