Sugod na sa Sogod!
Home to the biggest river in Southern Leyte, Sogod is a 2nd class municipality that may seem unknown to a lot of tourists. However, this seemingly-sleepy town actually holds giant surprises when it comes to tourist spots! Here are 5 must-visit spots in Sogod, Southern Leyte!
1. AGAS-AGAS BRIDGE
The tallest bridge in the Philippines. Considered a feat in modern engineering, the Agas-Agas bridge serves as the major tourist attraction in the town of Sogod. It connects two mountains and spans the Mahaplag-Sogod portion of the Maharlika Highway. It is a 350-meter linear bridge with a dizzying height of 292 feet. The bridge is made more special by the deep-green foliage and mountainous terrain surrounding it. Due to its tourism potential, viewing decks have been created on both ends of the bridge. There are also parking lots and food stalls around the area to cater to tourists.
Entrance fee: None
Open: 24 hours accessible to vehicles
Exact location: Barangay Kahupian, Sogod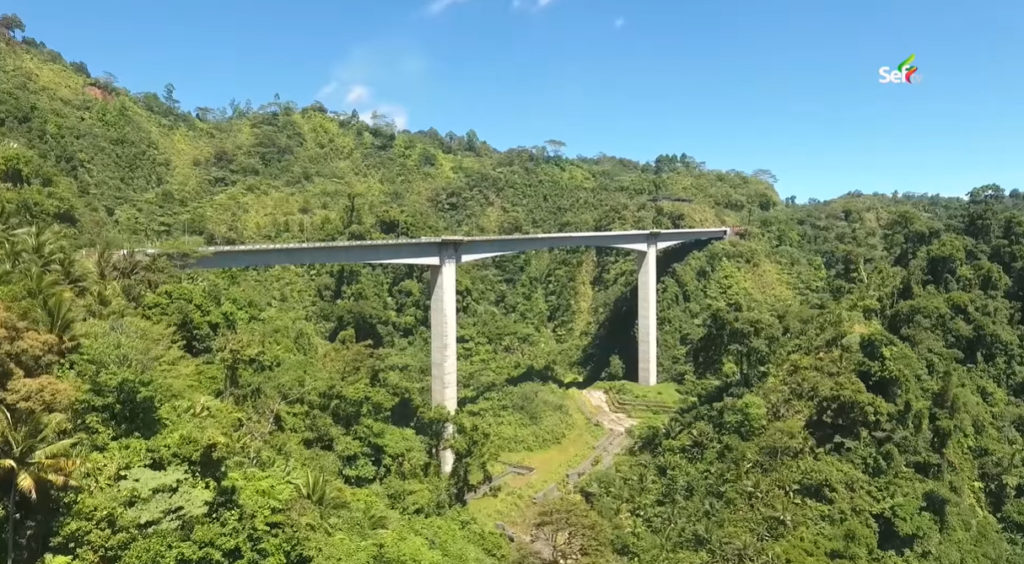 2. NEGUILAN MOUNTAIN RESORT
This resort is surrounded by a mountainous area with numerous thick green trees. During early mornings and on cold rainy months, the nearby areas are sometimes covered with fog, giving the place a magical view. They have pools with slides, surrounded by wooden cottages. Additional attraction here is a waterfall and cold spring located nearby, and the staff can assist and instruct you if you want to check these out as well.
Entrance fee: P130 (inclusive of pool use, trek to the falls and cold spring, transportation from Barangay 5, Sogod to the resort and back)
Other information:
Open: 9AM-9PM
Cabana: P800 per day (20-25 persons)
Kiosk: P300 per day (10-12 persons)
Corkage fee: P100
Contact number:0936-791-5659
Exact location: Barangay Kanangka-an, Sogod
3. MAGSUHOT NATIONAL PARK
A 500-hectare natural park located in Barangay Mahayahay, this forested area is home to several waterfalls and a cave. The trek through Magsuhot Park is challenging and it involves going through deep and shallow fresh waters and climbing through rocky terrain. There are no formal guides and tours offered around the area so you just have to ask around for locals who can guide you. The area is also not developed so you won't see any tourism or commercial structure along the way.
Entrance fee: None
Guide fee: No fixed price but can range from P250-P500
Exact location: Barangay Mahayahay, Sogod
4. USA'Y LUBI SUMMIT
This spot offers one of the best views in town. The summit gives you a panoramic view of the Sogod Bay, and if you're lucky, the Limasawa Island can also be seen especially on sunny days. Usa'y Lubi translates to "only 1 coconut tree" because the summit offers no shade except for a sole coconut tree. Hence, make sure to bring with you protective gears against the heat of the sun. It takes approximately 2-3 hours to reach the summit, and the trail is surrounded by cogon grass. Usa'y Lubi is also a perfect spot for overnight camping.
Entrance fee: None
Camping fee: None
Exact location: Barangay Milagroso, Sogod (jump-off point)
5. LA CARIDAD FARM
Want to experience the real probinsyano life? La Caridad Farm is perfect for that. Living up to its name, this farm offers a pure nature trip where you can see nothing but trees and plants, a pond, and at the same time, you can get to interact with their farm animals (goats, ducks, rabbits, etc). They also offer snacks for a reasonable price. La Caridad can also be the perfect place for a nature-inspired photoshoot or wedding receptions.
Entrance fee: N/A
Other information:
Exact location: Barangay Buac Gamay, Sogod
How to get there?
By van: Book a flight bound for Tacloban City. From the airport, ride a jeep to the downtown area (P8-P10 fare) and go to either the Grandtours or Van-Van's Terminal. Ride a van bound for Sogod. Travel time is around 2-3 hours and fare is at P150-P200.